Arhitektura
Nisu verovali u nju, a postala je kraljica arhitekture
Ono što je Mocart bio u klasičnoj muzici, već danas možemo reći da Zaha Hadid kroz svoj rad postigla u arhitekturi.
Jedna od najznačajnijih žena u arhitekturi našeg doba rođena je 31. oktobra 1950. godine u Bagdadu pod imenom Zaha Hadid što na arapskom znači slavna. Međutim, slavu nije stekla tako lako… Kroz svoj životni vek odbijala je da stvari vidi na običan način, te su njene projekte neretko karakterisali kao nemogućim za izgradnju, pa čak i suludim. Ipak, ona se borila sa odbijanjem njenih predloga čak 17 godina, da bi uspela da preokrene svet arhitekture i kao takva ostaće zauvek zapamćena u istoriji.
Čuveni arhitekta Rem Kulhas prepoznao je u njoj talenat te joj je ubrzo počela da radi kod njega u birou.
Zahin život počinje u Bagdau, gde je odrasla kao dete u imućnoj iračkoj porodici, te nije imala klasičnu priču detinjstva u siromaštvu, kakvu nažalost imaju mnoge slavne ličnosti. Zahina odluka o studiranju se u početku svela na matematiku, koju je i studirala na američkom univerzitetu u Bejrutu. Međutim, vremenom je shvatila da više voli oblike od brojeva, te se usmerila na arhitekturu.
Uskoro se odselila u London gde je upoznala holandskog arhitektu Rema Kulhasa, koji je u njoj prepoznao talenat, te joj je ubrzo postao i mentor. Nakon završenih studija, Zaha je dobila poziv od Kulhasa da radi u njegovom birou u Roterdamu, što je i prihvatila. Nakon tri godine saradnje, Zaha je shvatila da je spremna da se osamostali, te se ponovo vratila u London.
Arhitektura… na papiru
Čak 17 godina Zaha se borila sa konstantnim odbijanjem njenih ideja i dobila je epitet "arhitektom papira". Uprkos neverovatnom broju predstavljenih ideja, nije zabeležen nijedan izgrađen objekat po njenom projektu pre 90ih. Njeni projekti pobeđivali su na mnogobrojnim međunarodnim konkursima ali su ostajali samo na papiru jer se verovalo da je nemoguće izgraditi predstavljene objekte. Sve što je Zaha u tom trenutku mogla da uradi jeste da nastavi da radi i da se nada da će arhitektura uskoro napraviti korak napred. Tokom 1982. godine činilo se da ju je sreća pogledala i odobren je za izgradnju sportski klub u planinama Hong Konga. Ipak, godinu dana kasnije investitor je otkazao izgradnju.
Prvi realizovani objekti
Uz novac koji je dobila osvajajući konkurse, Zaha je odlučila da otvori sopstvenu firmu, koja je 30 godina kasnije zaista postala imperija. Ona nije odustajala i zahvaljujući tom snažnom karakteru nastavila je da stvara svoje "sulude" projekte i sa svoje 44 godine doživela da njena prva zgrada zaista bude sagrađena. Bila je to vatrogasna stanica investirana od strane proizvođača nameštaja Vitra. Iste godine izgrađena je i IBA kuća. U uspehu ovog projekta udeo ima i lokalna feministička zajednica, koja se borila za prisustvo žena u modernoj nemačkoj arhitekturi.
Zaha je bila veliki obožavatelj rada Kazimira Maleviča i ruske avangardne umetnosti generalno, te se u njenim ranim radovima vidi veza s ruskim konstruktivizmom. Ipak, u svom daljem radu Zaha je poznata po avangardnim i futurističkim stilovima.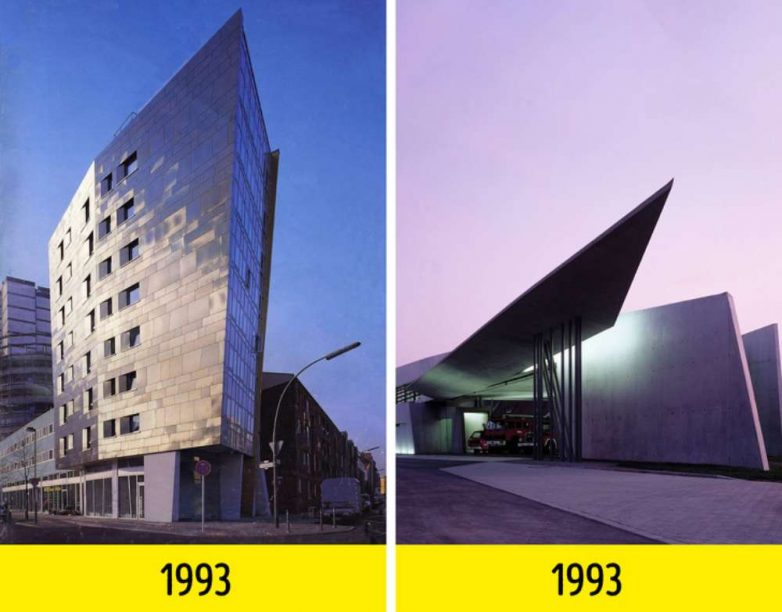 Nagrade i optužbe
Konkretno interesovanje za njen rad javilo se nakon što je učestvovala u izgradnji Centra za savremenu umetnost u Sinsinatiju, koji je bio prvi muzej u Sjedinjenim Američkim Državama dizajniran od strane žene. Prvi pravi trijumf Zaha je postigla 2004. godine za svoj Aquatics Centre u Londonu, dobivši Pritzkerovu nagradu, poznatiju kao Oskar arhitekture. Zaha je bila prva žena u istoriji koja je osvojila ovu prestižnu nagradu. Od tog trenutka Zaha postaje jedan od najpopularnijih i najmodernijih svetskih arhitekti. Ipak, i dalje je bilo kritičara, koji su govorili da je previše usmerena na samoizražavanje umesto na funkcionalnost objekata. Međutim, niko nije ostajao ravnodušan na njen stil koji je postao jedan od najpriznatijih u svetu. Malo je falilo da i Beograd dobije hotel na Kalemegdanu kojeg potpisuje Zaha Hadid.
Kraljica zakrivljene forme
Čuveni Guardian naziva je "kraljicom zakrivljene forme" koja je uspela da se oslobodi arhitektonske geometrije. Naime, Zahina firma bila je jedna od prvih koja je počela da koristi parametarskim pristupom u projektovanju, što je omogućilo obradu velike količine podataka kako bi se formirale složene strukture. Pored toga, Zaha je koristila i kompozitnu plastiku, što joj je omogućilo da projektuje i gradi nemoguće oblike. Nastavila je da negira racionalizam i svoje kreacije je isključivo zasnivala na mašti.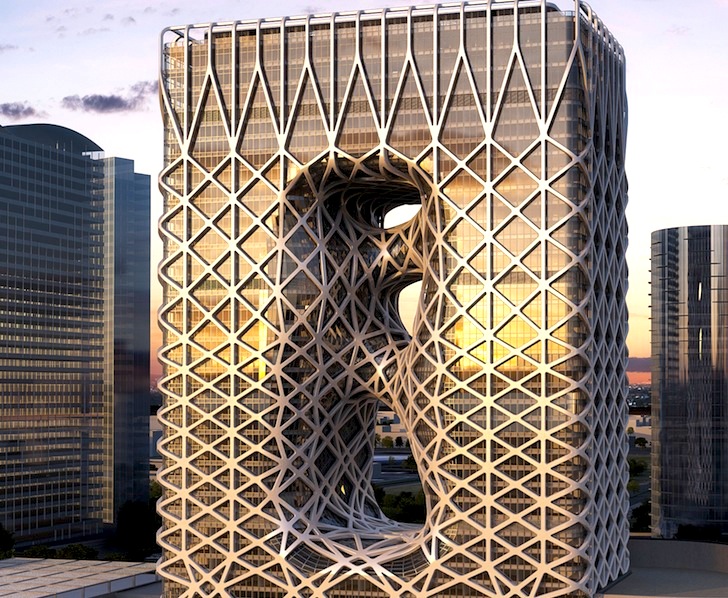 Skupi projekti i svetska kriza
Iz godine u godinu Zahini projekti postaju sve skuplji i neverovatniji. Početkom i sredinom 2000ih Zaha je uspela da svoje najambicioznije ideje sprovede u delo. Njene zgrade sve više porede sa umetničkim delima i svemirskim objektima, jer su bili tolko neobični u oku posmatrača.
Naravno, svaki njen projekat postaje skuplji, pa su tako izgradnje zgrade Dongdaemun Design Plaza u Seulu i Heydar Aliyev centar u Bakuu koštale na stotine miliona dolara. Istovremeno, svet je zapao u ekonomsku krizu 2008. godine i trošenje tolike količine novca na izgradnju bilo je sve neprihvatljivije. Ipak, u Kini i na Bliskom Istoku sve je i dalje bilo pod kontrolom te su oni sebi mogli da priušte Zahine projekte.
Poslednje godine života pod velom kritike
Nažalost, poslednje godine Zahinog života bile su zasenjene neprijatnim situacijama u nekoliko zemalja. Tokom izgradnje stadiona u Kataru, prema njenom projektu, nastradalo je nekoliko građevinaca. S obzirom na to da je bila poznato ime u svetu arhitekture, ova incident je uzrokovao mnogobrojno pojavljivanje njenog imena u negativnom kontekstu u medijima, iako projekat zgrade nije bio taj koji je bio opasan za ljude.
Drugi du se pak usmerili na formu pa su govorili da je ona ekstravagantna i da potseća na ženski polni organ. Drugi problem pojavio se tokom izgradnje Olimpijskog stadiona u Tokiju, zbog tvrdnji da je projekat preskup, te je japanska štampa uporedila objekat sa morskom kornjačom koja bi odvela Japan na dno okeana. Kasnije se Vlada odlučila za jednostavnije i jeftinije rešenje. Zaha Hadid je potom prokomentarisala da Japanci ne žele da stranci rade u njihovoj zemlji.
Projekti nastavljaju da žive
Zaha je nažalost preminula u svojoj 65. godini od srčanog udara u klinici u Majamiju, na kojoj se lečila od bronhitisa. Jedan od poslednjih projekata koje je izvela bila je kuća u Njujorku.
Budući da je arhitektura bila jedina Zahina ljubav, njeni projekti bili su njena porodica. Patrik Schumacher, partner u firmi sa kojim je Zaha radila 28 godina, dobro je razumeo njene ideje i principe, te je Zaha Hadid Architect nastavila sa radom i nakon Zahine smrti.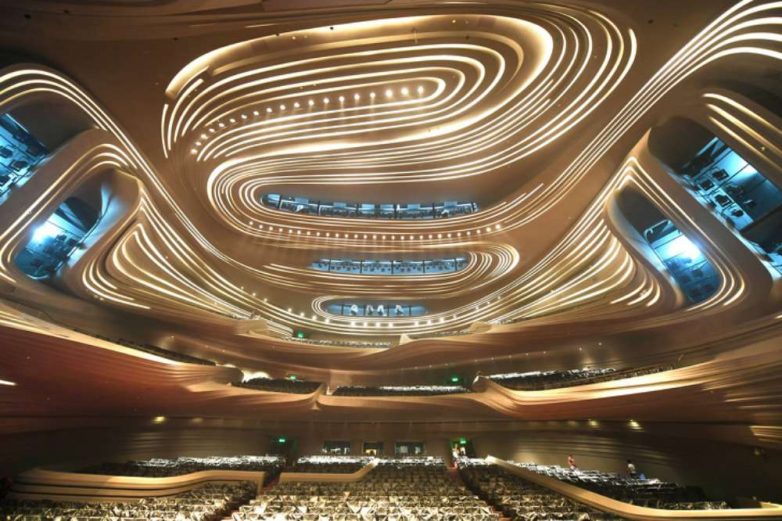 Mnogi projekti slavne Zahe Hadid još uvek čekaju na realizaciju što nam pruža osećaj da je ona i dalje sa nama.
Biro trenutno radi na više od 30 Zahinih nedovršenih radova. Nedavno je izgrađen Međunarodni centar za kulturu i umetnost Changsha Meixihu, kao i neverovatni aerodrom Daxing u Pekingu, koji je i najveći međunarodni aerodrom na svetu.
Planira se uskoro otvaranje i metroa u glavnom gradu Saudijske Arabije, čiju je glavnu stanicu projektovala Zaha.
Mnogi projekti slavne Zahe Hadid još uvek čekaju na realizaciju što nam pruža osećaj da je ona i dalje sa nama.
Foto: Zaha Hadid, David Levene /eyevine/EAST NEWS, via Brightside