Softver
Beograd zasijao u punom 3D sjaju na Google Earthu
Odnedavno je dostupan 3D model Beograda i za sada je to jedini takav poduhvat napravljen u Srbiji.
Želite da sagledate ceo Beograd u tri dimenzije? To je sad moguće zahvaljujući servisu Google Earth! Projektom je obuhvaćeno masivno, urbano tkivo Beograda od Zemun Polja pa sve do Kaluđerice. Međutim nisu izostavljena ni naselja sa leve obale Dunava, Borča i Kotež. Pre svega uočava se detaljan prikaz samog terena, široka ravnica novobeogradskog dela grada i nesaglediva naselja na brdovitoj desnoj obali Save.
Pri dubljem pogledu na gradske kvartove mogu se zapaziti stambeni i javni objekti koji predstavljaju svojevrsne simbole Beograda, ali i važniji trgovi, parkovi, saobraćajnice i turističke odrednice, koji svi zajedno pružaju osećaj duha prestonice. Verodostojno su prikazani reklamni natpisi, pa čak i horizontalna saobraćajna signalizacija. S druge strane uočljiv je nedostatak tehničke opreme u modelovanju detalja poput automobila, zelenila i stilskih ornamenata karakterističnih za višedecenijske objekte.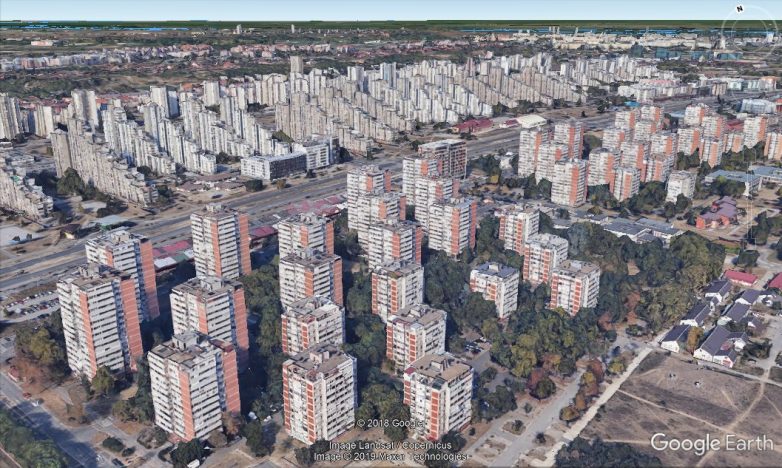 Možda je ovaj projekat baš ono što će u budućnosti biti od pomoći urbanistima u cilju humanijeg razvoja gradskih naselja.
Još jedna od mnogobrojnih prednosti 3D vizualizacije jeste prikaz urbanističkih blokova u realnom stanju i njihov odnos i komunikacija sa okolnim prostorom. Možda je ovaj projekat baš ono što će u budućnosti biti od pomoći urbanistima u cilju humanijeg razvoja gradskih naselja. Kada govorimo u tom pravcu, dominantno se uočavaju monolitne višespratnice Beograda na vodi i sagledivo stanje njegovih gradilišta iz perspektive koja je do sada bila teško dostupna. Iako je model grada bio u pripremi pre nekoliko meseci, mogu se zapaziti i građevinski radovi na kompleksima Skyline Belgrade, West 65, K-distrikt, gradilištu kule Ušće 2 i mnogi drugih.
Neminovno je da će najoriginalniji prikaz Beograda privući ljude iz različitih sfera interesovanja, među kojima je najviše onih koji iz radoznalosti žele da posete grad. Ako to imamo u vidu, nadamo se da će se ista akcija proširiti na druge gradove naše zemlje, na lokalitete od kulturno-istorijskog značaja i prirodna bogatstva, koji bi Srbiju autentično predstavljali na globalnoj mapi sveta.
Kako se pravi 3D snimak
Da bi se napravio kvalitetan 3D snimak, prvo se mora sagledati mesto na kojem se žele sakupiti fotografije, a to se može uraditi na više načine. Jedan način je pomoću satelita koji daju globalan pogled i u pitanju su 2D slike koje oblažu određenu površinu Zemlje. 3D prikaz se dobija pomoću informacija prikupljenih avionom i zbog toga je potrebno da budu ispunjeni određeni uslovi, na primer vedro vreme bez oblaka.
Kako bi prikupili dovoljan broj fotografija, avionima je potrebno oko 5 sati. Princip se zasniva na preklapanju fotografija koje se dobijaju mnogobrojnim kamerama iz različitih uglova. Avion obično poseduje 5 različitih kamera koje fotografišu prostor ispod, ispred, iza aviona, ali i sa njegove leve i desne strane.
Fotografije posle toga spaja određeni algoritam u 3D model snimljenog područja, a pri tome se fotografije dorađuju, uklanjaju se oblaci, izmaglica i sledi korekcija boja. Ponekad se uklanjaju i detalji poput automobila na ulicama. Kompjuter traži karakteristike koje se na fotografijama poklapaju. GPS antena obezbeđuje tačnu lokaciju kamera i pod kojim uglom je materijal sakupljen. Na taj način nastaje 3D tekstura željenog mesta na koju se dodaju fotografije. Međutim, prirodne oblike je teško modelovati, poput drveća, zbog mnogobrojnih sitnih detalja kao što su grane sa lišćem.
Pogledajte Beograd u 3D
Ako želite da istažujete Beograd u tri dimenzije, to možete uraditi tako što ćete preuzeti program Google Earth ovde, ili ako koristite Chrome, to možete uraditi direktno iz pretraživača preko ove adrese.
Kad ste već ovde…