Rasveta
Kada stone lampe postanu ulična rasveta
Ova ulična rasveta čini da se za trenutak osetite kao da ste u drugom prostoru i vremenu.
Dizajn studio Arcylicize kreirao je seriju uličnih svetiljki nazvanu The Manchester Lamps koje odaju počast nekim od najznačajnijih ličnosti koji su uticali na ovaj engleski grad. Tako su se na ulicama našle lampe posvećene ocu modernog računarstva Alanu Tjuringu, pioniru nuklearne fizike Ernestu Ruterfordalu ali i drugim slavnim ličnostima koji su obeležili svetsku istoriju.
Dizajneri iz studija Arcylicize bili su inspirisani izrekom nekadašnjeg premijera Roberta Pila: "Ono što Mančester danas radi, ostatak sveta radi sutra.". Imajući ovo u vidu, dizajneri su želeli da ovom umetničkom rasvetom odaju počast istoriji Mančestera ali i da pruže optimističan pogled na budućnost.
Ulične svetiljke, visine od 3 do 6metara, zapravo su uvećane replike poznatih stonih lampi.
Ulične svetiljke, koje su zapravo uvećane replike poznatih stonih lampi, su visine od 3 do 6 metara, a neke od njih imaju i klupu koja se greje tokom zimskih meseci, piše Contemporist. Pogledajte kako izgledaju ove stone lampe na sterodima:
1903 Art Nouveau Tiffany Lamp – karakteriše period inovacija i edukacije
Odaje počast istoriji obrazovanja u Mančesteru, sa osvrtom na gradsku biblioteku Chetham, koja je zapravo i najstarija besplatna javna biblioteka u Ujedinjenom Kraljevstvu.
1909 Banker's Desk Lamp – posvećenost, istrajnost i otkrića
Prepoznatljiva zbog svog zelenog abažura koji omekšava svetlost i čini rad noću lakšim. Ova lampa je posvećena svetski poznatom kompjuterskom pioniru Alanu Tjuringu. Zato je na prepoznatljivom abažuru ugraviran kod ozloglašene Enigme, mašine koja je šifrovala nemačke poruke u Drugom svetskom ratu.
1932 Art Deco Style Lamp – napredak u nauci i fizici
Inspiracija za dizajn ove lampe pronađena je u prelepim Art Deco zgradama širom grada kao i procesu deljenja prvog atoma, za koje je istraživanje sproveo Ernest Ruterford na Univerzitetu u Mančesteru. Ovaj ogromni napredak u fizici prenesen je na dizajn lampe koja ima abažur ilustrovan atomima.
Mid Century Table Lamp circa 1950 – razvoj industrijalizacije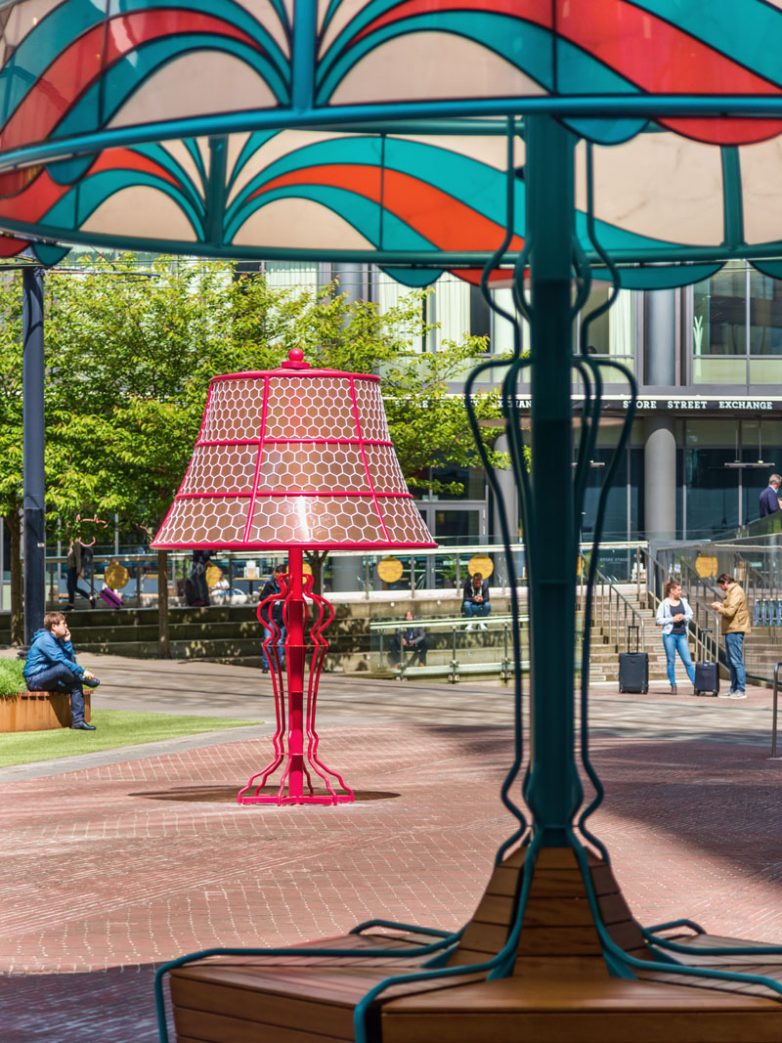 Adaptirana verzija uobičajene stone lampe iz ovog perioda, koja slavi naporan rad lokalnog stanovništva. Grad je poznat po svojoj "busy bee" radničkoj prošlosti pa je dizajn lampe oblikovan šarom košnjice.
The Iconic Anglepoise Lamp – budućnost, inovacije i kreativnost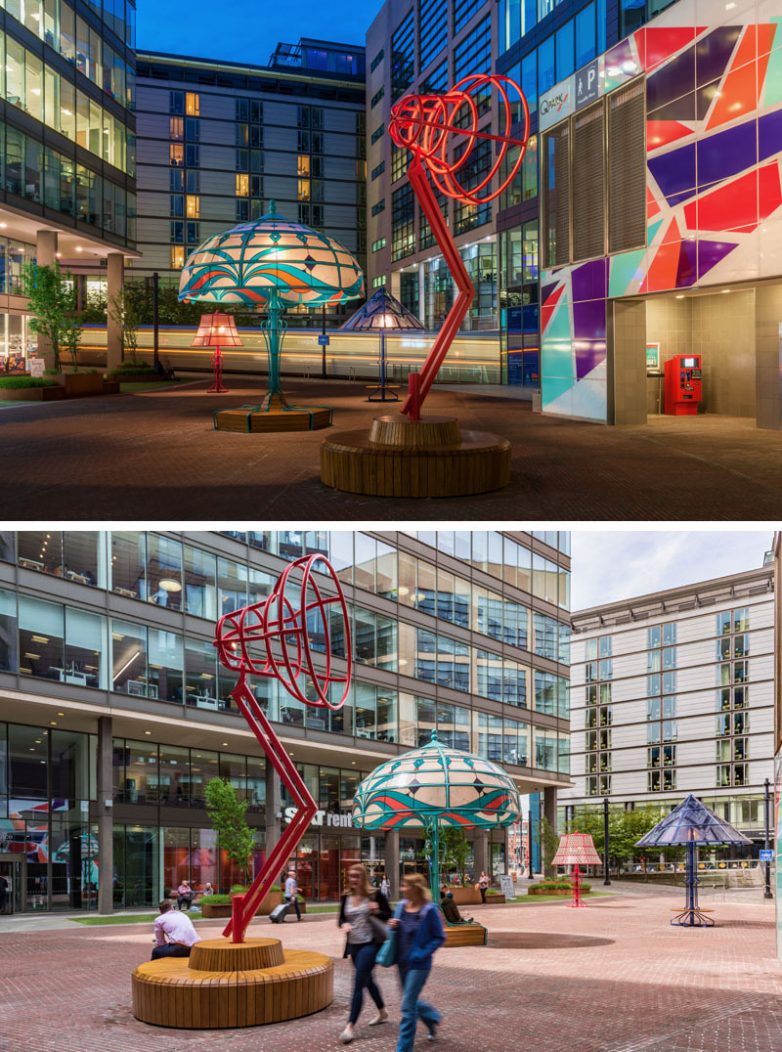 Dizajn lampe kombinovan je sa šarom na zidu susedne zgrade koja izgleda kao odsjaj lampe i predstavlja budućnost i naredno poglavlje istorije grada. Ova svetlost ne odnosi se samo na Mančester, već i na celokupnu svetsku zajednicu.
Kada ste već ovde…