Dvadeset jedna tona čelika nosi težinu 6 automobila na visini od 52 metra!
Ovog jula održan je jubilarni 25. Festival brzine koji se tradicionalno održava u Engleskoj, u Zapadnom Saseksu. U pitanju je veliki događaj za sve ljubitelje brzine jer pored trka, to je ujedno i jedna veoma neobična izložba klasičnih automobila.
Tokom ovih 25 godina britanski umetnik i dizajner Džeri Juda, imao je zadatak da osmisli spektakularne skulpture koje su činile centralno obeležje festivala. I ovog puta angažovan je za isti posao, a tema mu se nametnula sama: ove godine obeležava se 70 godina od lansiranja prvog poršea – legendarnog modela 356.
Skulptura visoka 52 metra postavljenja je ispred kuće Goodwood, centralnog objekta ovog događaja, i to tako da se može videti sa svih strana festivala. Međutim, veoma je interesantno njeno konstruktivno rešenje jer ova skulptura počinje čeličnim stubom širine svega 98 milimetara. Stub, koji izgleda kao vreteno, raste u visinu a potom se širi u sedam grana na koje je okačeno šest poršea, koji spektakularno vise na samom vrhu, dok sedma grana stremi direktno ka nebu.
Čelični stub, koji izgleda kao vreteno, u svom dnu je širok svega 98 milimetara.
Iako je veoma visoka, skoro kao beogradska Palata Albanija, skulputura od 52 metra deluje veoma lagano. Samo 21 tona čelika nosi težinu automobila koja zajedno iznosi 6 tona. Geometrija je zasnovana na krnjem oktaedru, obliku koji je dozvolio pozicioniranje šest automobila na svojim krajevima, sa bazom u nivou tla i šiljkom na samom vrhu. Sve grane su napravljene kao heksagonalni cevasti profili koje su pružili čvrstoću i stabilnost, a pravili su se od laserski sečenih metalnih ploča. Statički proračun skulpture uradila je kompanija Diales, dok ju je izvela firma Littlehampton Welding.
Naravno, ovakva konstrukcija stoji zahvaljujući sistemu čeličnih zatega. Međutim, osam kablova deluje veoma lagano tako da se teško mogu i videti što značajno doprinosi da ova skulptura deluje još dramatičnije.
Poršei koji prkose gravitaciji
Na stubu je okačeno šest modela poršea: 356 (prvi porše napravljen 1948), 917 (kojeg je vozio Stiv Mekvin u filmu Le Mans), 959 (pobednik trke Pariz-Dakar iz 1987), 918 Spyder (hibridni auto iz 2015), 919 (Le Mans prototip iz 2015) kao i  911R (limitirana verzija automobija iz 2016).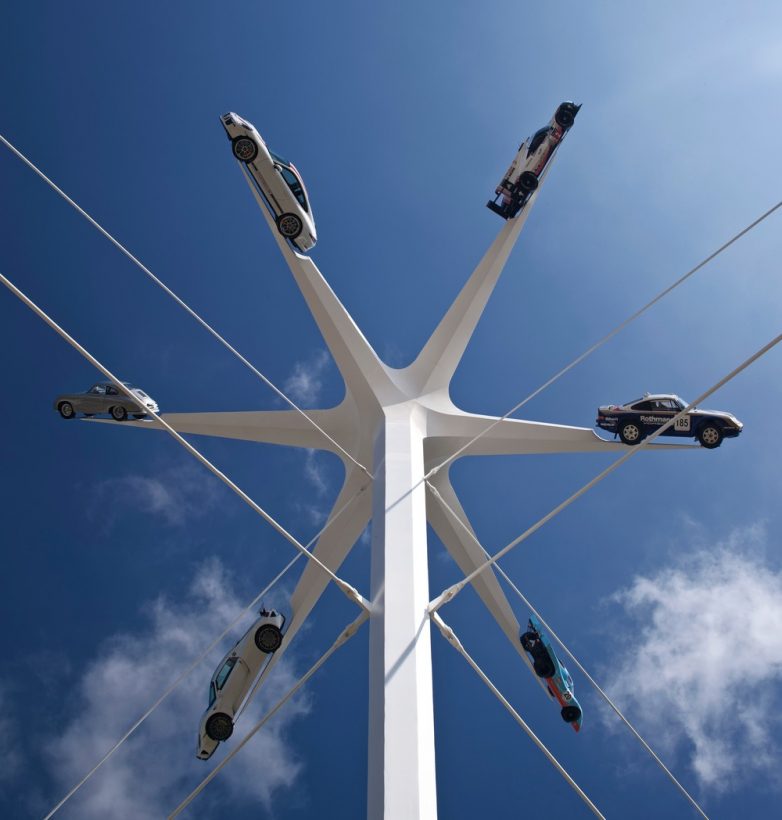 Foto: David Barbour via V2com
Kad ste već ovde…