S poznatim novosadskim arhitektom, dobitnikom ovogodišnje Tabakovićeve nagrade, razgovarali smo o tome kako ga je ideja da nešto stvara vodila od malena, kako ga je surova istina Ranka Radovića motivisala da uči, i kako je došao do izložbe koju zove dokumentarcem koji traje 20 godina.
Malo je arhitekture u današnje vreme kojoj se radujemo i pre nego što se ona realizuje samo zato što znamo ko će projektovati. Upravo takva je arhitektura Lazara Kuzmanova koga smo u birou Kuzmanov and Partners zatekli u kancelariji za sastanke između Zoranove slike na zidu i zastave Liverpoola zategnute lenjirima preko stola za crtanje. Povod za razgovor s vatrenim fanom obe ove "institucije" bila je retrospektivna izložba koju u njegovu čast organizuje Društvo arhitekata Novog Sada u saradnji s Muzejem savremene umetnosti Vojvodine, a povodom dobijanja Tabakovićeve nagrade za arhitekturu za 2019. godinu.
Dobili ste puno nagrada u svojoj karijeri dugoj 20 godina. Koliko vam posle svih njih znači ova najnovija – Tabakovićeva nagrada?
Arhitekte uglavnom nisu svesne značaja dobijanja nagrada… Meni se vrlo često dešava da kada je ne dobijem, onda se ljutim jer mislim da sam je zaslužio. A onda kada je dobijem, preispitujem se da li sam je zaista zaslužio. Naravno, bio sam presrećan kada sam čuo da mi je veće Nagrade za arhitekturu "Đorđe Tabaković" dodelilo ovu prestižnu nagradu, ali sam bio i iznenađen. Uvek sam smatrao da je Tabakovićeva nagrada ustvari nagrada za životno delo, a ja nekako sebe još uvek smatram mladim arhitektom (smeh).
Tabakovićevu nagradu shvatam kao obavezu da ne smem da stanem s projektovanjem.
Meni je arhitekta Đorđe Tabaković uvek bio neko na koga sam se ugledao još od srednje škole jer sam upoznao njegovu arhitekturu kroz predavanja profesorice Sonje Stoje koja mi je i ulila ljubav ka arhitekturi. To su bile moje prve arhitektonske analize kada sam pokušavao da spoznam da li je normalno da tako velika zgrada kao Tanudžićeva palata bude izgrađena u zaštićenom gradskom jezgru Novog Sada ili da li Klajnova palata svojom vertikalnom postavkom ima smisla u ulici kralja Aleksandra…
Kada sam 2005. godine postao predsednik Društva arhitekata Novog Sada nastavio sam s dotadašnjom praksom dodele ove nagrade, ali i ispunio sam želju mnogih novosadskih arhitekata da se u Aradu, rodnom mestu Tabakovića, postavi spomen ploča na kući u kojoj su rođeni Ivan, Đorđe ali i njihov otac takođe arhitekta Milan Tabaković. Isto obeležje smo postavili i na njihovoj novosadskoj kući u ulici Mike Antića. To je jednostavno bio naš dug prema ovoj vrsnoj umetničkoj porodici.
Posle toliko godina, sada kada ja dobijam Tabakovićevu nagradu, to prosto shvatam kao obavezu da ne smem da stanem s projektovanjem. Posle 20 godina rada, ona mi daje snagu da radim dalje i da dokazujem sebi da sam zaslužio takvu jednu veliku nagradu.
Kako je sve krenulo? Odakle uopšte interesovanje za arhitekturu?
Moj otac je bio arhitektonske struke i u druženju s njim ostvario sam prve kontakte s projektovanjem, a i vrlo često sam kao mali odlazio u Zagreb kod mog strica koji je bio arhitekta i zvao se Lazar Kuzmanov. To mi je imponovalo. Vodeći me kroz grad i pričajući mi o zagrebačkim soliterima, ugradio mi je tu prvu spoznaju o arhitekturi. Posle građevinske škole, a potom i Arhitektonskog fakulteta u Beogradu sazrela mi je ta misao, koja me je vodila od malena – da imam želju da nešto stvaram i gradim!
Posle Arhitektonskog fakulteta sazrela mi je ta misao koja me je vodila od malena – da imam želju da nešto stvaram i gradim!
Sećam se prvog predavanja profesora Ranka Radovića na Arhitektonskom fakultetu kada je rekao jednu surovu istinu, a to je da će od nas 120 studenata, koliko nas je upisalo prvu godinu, samo deset posto baviti autorskom arhitekturom. Dakle, samo dvanaestoro će moći da se okrene na ulici i kaže ovo je moja zgrada. Ostali će se baviti urbanizmom, enterijerom, menadžerisanjem ili će raditi negde u upravi. Okrenuo sam se da pogledam svoje kolege u amfiteatru i dobro sam se zamislio hoću li ću ja biti među tih 12. To je bila odlična motivacija da učim i stignem tu gde sam danas.
Odlučili ste da se posle fakulteta vratite u Novi Sad…
Da, to je bila jedna od boljih odluka u mom životu. Zaposlio sam se u Zavodu za urbanizam, potom sam s profesorom Rankom Radovićem, koji je takođe prešao u Novi Sad, sarađivao na Fakultetu tehničkih nauka u Novom Sadu… Celog života živim u trouglu Titel, gde sam rođen i gde mi je srce i duša, Novi Sad, gde mi je porodica, prijatelji i posao, i Beograd koji mi je i dalje u nekom lepom sećanju jer sam tamo proveo najlepše godine života kao student.
Nedavno sam dobio na poklon od prijatelja grafiku Mome Kapora koja se zove Beograd i bela lađa, na kojoj piše "Otvori mapu, Beograd nađi, pa onda plovi na beloj lađi." To je ustvari potpuno moja slika jer sam ja u jednom trenutku, 1995. godine, moj Beograd stavio u belu lađu i zaputio se u Novi Sad.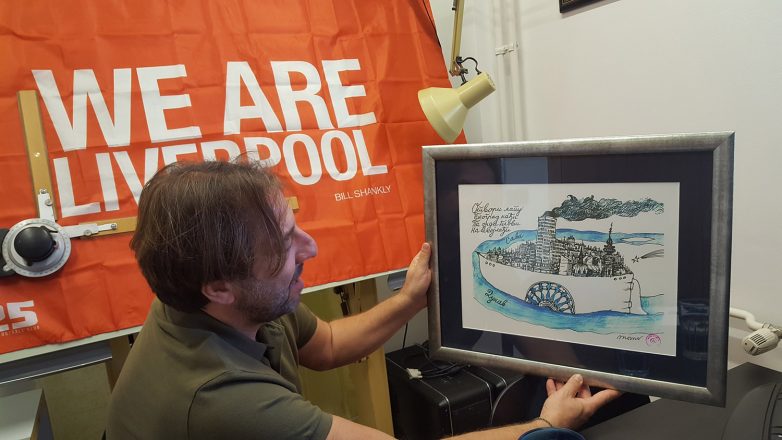 Kakav je Beograd bio nekad, a kakav je danas?
Kad sam 1988. godine došao u Beograd, odmah me je osvojio. Žurke, rok scena, KST, bluz klubovi, Akademija – to je taj Beograd koji je bio idealan grad za mladog čoveka. Kasnije sam prošao i ludilo početka devedesetih godina koje mi je pomoglo da sazrim i odrastem. S današnjim Beogradom, na svu sreću, nemam puno veze. Sam pokušaj da bilo gde krenem automobilom kada dođem u Beograd, mene odmah povede da se okrenem i vratim u Novi Sad.
Mislim da Beograd i arhitektonski gubi svoj identitet, a ja za to drugarski kritikujem svoje beogradske kolege koji sve manje utiču na izgled Beograda i prepuštaju uglavnom stranim investitorima i projektantima da na problematičan način kreiraju izgled ovog grada.
Jeste li ikad poželeli da odete u inostranstvo?
Imao sam ponude da odem ali sam se odlučio za jedan drugačiji život. Novi Sad mi kao grad neverovatno prija, kao i Titel u kojem sam rođen. Shvatio sam da na toj relaciji želim da provedem život, a ne napolju tražeći neku svoju poziciju. U početku sam se bojao da počnem sve ispočetka, odnosno, da u inostranstvu ponovo gradim karijeru. Posle me to nije interesovalo. Odluka je bila ispravna, tako da se moja karijera svela na to da sam novosadski arhitekta i da radim za ovo okruženje gde živim. Sasvim dovoljno.
Kako ste odlučili da se bavite višeporodičnom stambenom arhitekturom?
Kada sam diplomirao, bio sam jedini arhitekta na birou za zapošljavanje i mogao sam da biram gde ću raditi. Na nagovor roditelja, odlučio sam da se zaposlim u javnom preduzeću, odnosno, u Zavodu za urbanizam jer je državno preduzeće "jače" i "sigurnije". Uopšte nisam pogrešio jer sam radeći tamo pet godina godina naučio osnove i urbanizma i planiranja. To je bila jedna realna nadogradnja nakon studija. Međutim, svih tih godina provedenih u Zavodu, imao sam želju da uđem među onih deset posto generacije i projektujem zgrade.
Povratkom mog kolege i prijatelja Ilje Mikitišin u Novi Sad, ta želja je počela da se realizuje. Počeli smo zajedno da radimo i to prevashodno konkurse koji su nam dali potvrdu da mi to zaista možemo da radimo. Ilja i ja smo se našli i stručno i drugarski. Bodrili smo jedan drugog što je na kraju rezultovalo da pokrenemo jedan od prvih privatnih biroa kod nas. Naša prva stambena zgradu koju smo radili u ulici Alekse Šantića bila je dobro primećena i te 2002. godine smo dobili nagradu Grada Novog Sada za najbolji objekat u gradu. To je bila tačka odrednica kojom smo ne samo izašli iz anonimnosti već je ona značajno uticala na moju celu karijeru jer su potom poslovi u stanogradnji počeli da se nižu.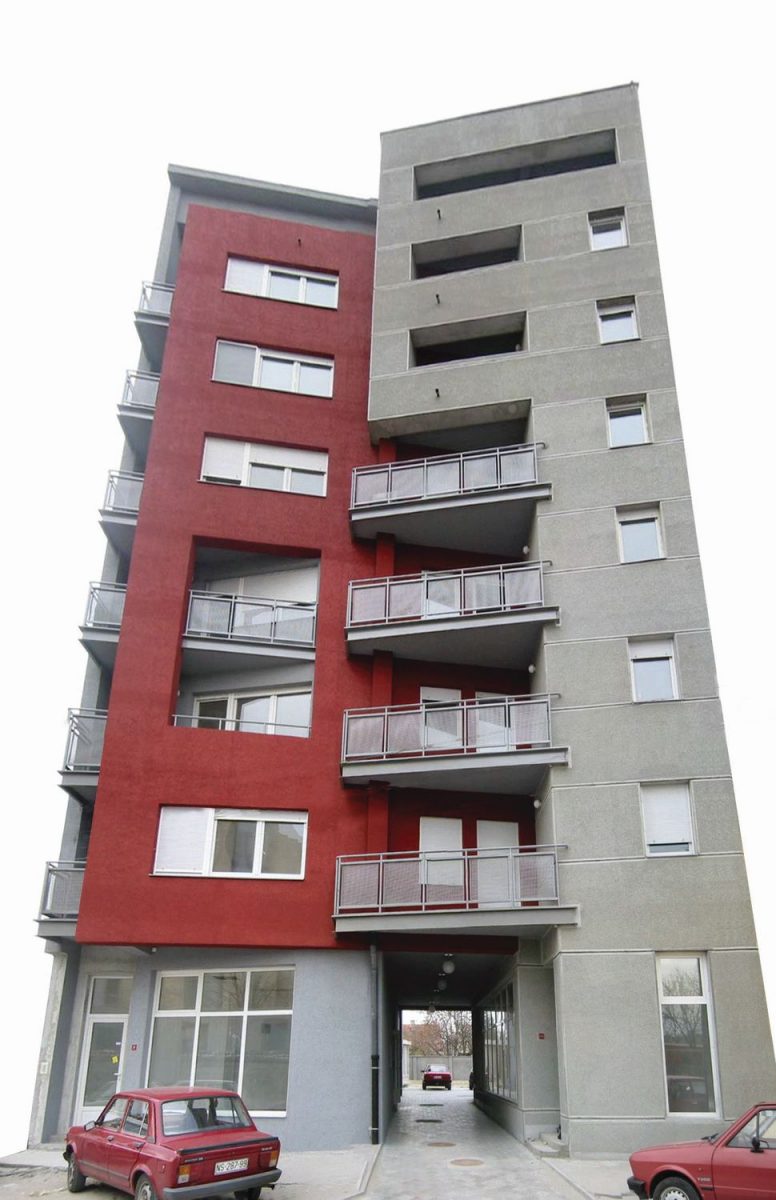 Malo je investitora koji imaju poverenja u arhitekte. To je kao kada odete kod zubara pa se znojite ako nemate poverenja u doktora.
Kako uspevate da se izborite za svoje ideje?
Malo je investitora koji poštuju arhitekte, odnosno onih koji u njih imaju poverenja. To je kao kada odete kod zubara pa se znojite ako nemate poverenja u doktora. Veoma mi je bitno da moj investitor ima u poverenja u mene, u moj rad i u moju arhitekturu. To je jedini način da dobijem slobodu za svoje ideje kako bi napravio bolju kuću.
Odakle crpite inspiraciju?
Iza mene stoji velika produkcija i zaista dolazim u situaciju da inspiraciju i energiju za nove objekte tražim u raznim segmentima života: u muzici, filmovima, koncertima, u druženja sa prijateljima ili s mojom decom… Pokušavam da tražim novi stimulans kako bi pokrenuo nešto u arhitekturi i kako bi svaki moj sledeći objekat bio drugačiji. Ne želim više veliku produkciju ali želim da te pojedinačne kuće koje projektujem budu obeležje moje arhitekture.
Kako ocenjujete trenutni nivo arhitekture u Novom Sadu?
Imam utisak da se kolege ne bave studiozno arhitekturom, fasadnom opnom, oblikovanjem objekta… već da je sve postalo arhitektura što više kvadrata i prodajnih površina. Svedoci smo velike ekspanzije gradnje, ali nažalost ne ostaje puno toga za kvalitetnu arhitektonsku analizu…
Novom Sadu pre svega fali kvalitet života. Ako u jednoj maloj ulici napravite blok od 300 stanova, a nigde nemate zelenila, onda je za mene to skaradno. Istu odgovornost u ovom procesu imaju urbanisti, investitori i mi projektanti. Svi smo učeni i vaspitavani na ideji zelenog grada, humanog stanovanja i sada kada posetite delova Limana u Novom Sadu, odete u neke zone Novog Beograda ili na Novi Zagreb, videćete koliko je sve planirano da korisnici prostora imaju sve uslove za kvalitetan život.
Izgubljena je prilika, na primer, da se unutarblokovske površine, recimo na Novoj Detelinari ozelene. Umesto toga, imate izbetonirana dvorišta bez parkića, ne postoji mesto gde bi se deca igrala, nema skvera, nema zone okupljanja… To je jedno niskokvalitetno stanovanje koje utiče prvo na razvoj te dece, potom na kvalitet života njihovih porodica, a to se sve na kraju reflektuje kroz probleme koji se javljaju u društvu.
Očajan sam zbog ideje da će neko u blizini Ribarskog ostrva graditi zgrade visine 20 spratova. Meni je lično to neshvatljivo jer sam celog života sanjao da će ta zona biti zona rekreacije – mesto gde će novosađani provoditi vikende, gde će baviti sportom, nautikom… Svaki grad ima takvo neko mesto gde veliki broj ljudi može da se smesti i provede kvalitetno vreme. Slično je i s Beogradom na vodi čijom izgradnjom će se narušiti ne samo pitoma zona priobalja Save već i silueta cele prestonice. Nisam protiv visokih zgrada, ali se takvi koraci moraju daleko studioznije promišljati.
Kako onda da dobijemo bolje zgrade, bolje gradove?
Neophodno je raspisivati konkurse. Arhitekte se moraju takmičiti pa će onda pobeđivati kvalitet. Potrebno je otvoriti utakmicu u kojoj svako može da pokaže šta može. Mladim arhitektama to bi bila sloboda da s novim idejama izađu na tržište, a to bi onda bila korist za grad.

Neophodno je raspisivati konkurse. Arhitekte se moraju takmičiti pa će onda pobeđivati kvalitet.
Svedoci smo vertikalnog širenja grada unutar svojih granica. Kako onda treba projektovati u užem gradskom jezgru?
Svaki vremenski period nosi svoje ideje i svoju arhitekturu. I kao što pisci koji sad pišu ne mogu pisati prozu i poeziju na onaj način kako se pisalo pre 100 godina, tako ni arhitekte u 2019. godini ne mogu podizati zgrade kao što su se radile s početka 20. veka.
Moje interpolacije znaju da budu grube i krute kao na primer zgrada u Vase Stajića. Ona je sve samo ne interpolacija u smislu ugrađivanja u okruženje. Išao sam drugom logikom, pravio sam otklon prema nasleđu, kako bi moja arhitektura bila jedan segment koji će napraviti pauzu između postojećih arhitektonskih objekata.
Naravno, sve zavisi od okruženja. Kod Poliklinike Novakov smo iskoristili arhitekturu postojeće zgrade i uličnog niza i napravili jedan odličan objekat koji se uklapa u okruženje Almaškog kraja. U projektu Pariskog magazina, koje nije izvedeno po našem rešenju, trudili smo se da dematerijalizacijom, ne ugrožavamo postojeće objekte već da ih na taj način i dodatno naglasimo i ostavimo ono što je deo tog vremena.
Jedan sam od retkih koji je javno podržao arhitekturu Hotela Centar jer se najzad pojavila arhitektura sa stavom. Ne volim arhitekturu koja nema ideju, koja nema stav. Kao što ne vidim stav niti odnos Pupinove palate i Brašovanove Pošte.
Kakav nam je stav prema stanovanju? Kako smo došli do toga da su nam dvosobni stanovi od 40 kvadrata?
Tržište je sve promenilo. Dok sam bio predsednik DaNS-a pokrenuli smo inicijativu o pravljenju pravilnika o minimalnim dimenzijama stanova i stambenih prostorija jer je naša struka skoro 15-tak godina radila bez ikakvog normativa. U Jugoslaviji se znalo koja je minimalna površina hodnika i soba, dnevnog boravka u odnosu na veličinu stana – postojala su pravila!
Stoga sam pozvao najeminentnije ljude iz oblasti stanovanja poput Dušana Krstića, Dušana Radovanovića, profesorke Vuković, kako bi stavili na papir sve ono što je iz njihovog iskustva vredelo, a potom sve to prilagodili normativima za jedno novo stanovanje. Pravilnik je usvojila Inženjerska komora Srbije i on je sada zvanično pravilnik kojeg bi trebao svi da se pridržavamo. Međutim, on se i dalje slabo primenjuje… Ne postoji lična odgovornost arhitekata da se prostori dimenzionišu drugačije. Tržište i tražnja čine svoje…
Školovao sam na Beogradskoj školi stanovanja kod profesora Marušića, Lojanice, Ličine i Stjepanovića koji su izgradili na hiljade stanova u ondašnjoj usmerenoj izgradnji kada se zaista vodilo računa o kvalitetu. Ono što sam naučio od njih trudim se da prenesem u svoje projekte.
Kako ocenjujete rad strukovnih udruženja po pitanju uticaja na arhitekte i njihovo projektovanje kao i po pitanju minimalne cene rada?
Svugde na svetu esnafska udruženja su cenjena. Kod nas Advokatska komora ima snagu da vodi celu struku i to odlično funkcioniše. Mi pokušavamo već 20 godina da napravimo Komoru arhitekata koja će definisati ko je arhitekta, koje su njegove minimalne nadležnosti i odgovornosti i kako ga država i Komora štiti u tom smislu – i kroz cenovnik i kroz različite kodekse ponašanja.
Ali ne uspevamo. Onoga trenutka kada smo imali mogućnost da pravimo Komoru, ona je svedena u okviru Zakona o planiranju i izgradnji u jednu administrativnu, esnafsku priču koja nije radila u korist arhitekata i inženjera. Organizovana po delatnostima umesto po strukama, Komora nije dala nikakve rezultate sem što smo svi dobili licence i što smo bili deo inženjerske porodice koja nam zapravo ništa nije nudila.
Imam utisak da ta nesposobnost arhitekata da se sami organizuju, da sami postave neka pravila, rezultira da mi imamo potpuni haos na tržištu. Imamo puno arhitekata koji rade ispod cene, projekti su slabog kvaliteta… To nije dobro.
Koliko se promenio način projektovanja u odnosu na pre 20 godina kada ste počeli karijeru?
Kad sam 1995. diplomirao, roditelji su mi dali novac da kupim Yuga. Auto mi je tada baš trebao. Međutim, ja sam za taj novac kupio svoj prvi računar. Nisam siguran da je mojim roditeljima bilo pravo, ali sam svom ocu uspeo da objasnim svoj postupak tako što sam ga pitao kakav je bio osećaj kada je s redis pera prešao na rapidografe. Rekao je da je to bila revolucija! Računar je u to vreme bio ta ista revolucija… koja mi je na kraju i kupila taj željeni automobil.

Umesto kola, kupio sam svoj prvi računar… koji mi je na kraju i kupio taj željeni automobil.
Još dok sam radio u Zavodu za urbanizam pokušao sam s kolegama da izdejstvujem da se izbace rapidografi, pausi i šabloni i da se regulacioni planovi crtaju na računaru. Do 2000. godine su se skoro svi obučili za rad na računaru. Danas softveri veoma brzo napreduju i ja pokušavam da u birou pratimo trendove iako baš i ne uspevamo. Problem implementacije BIM-a u svakodnevnom radu ogleda se u ceni projekata, intenzitetu kojim moramo da izađemo s projektima koji idu na gradilište.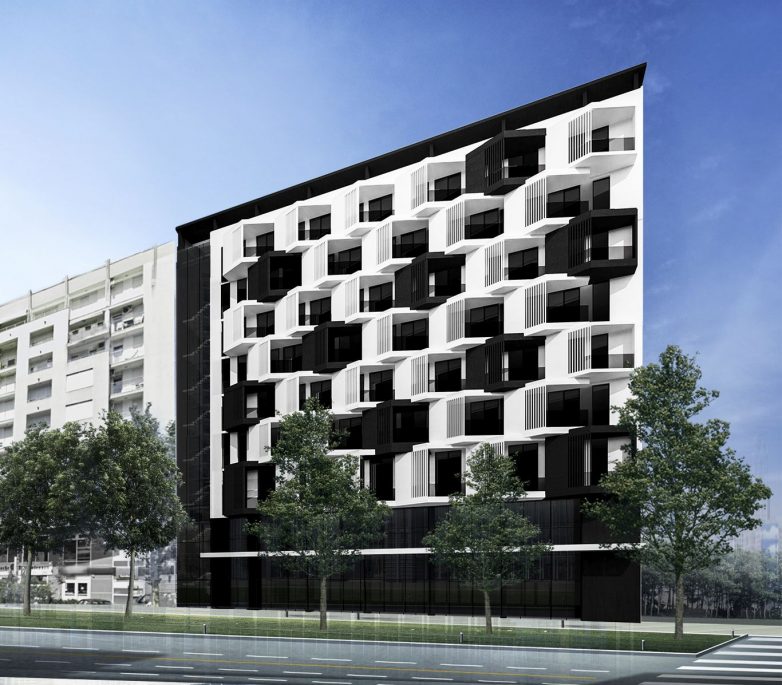 Tabakovićeva nagrada je lep povod za jednu retrospektivnu izložbu...
Da, ova izložba je lepa stvar da se posle 20 godina karijere napravi jedan presek. Građani Novog Sada i svi zainteresovani mogu od petka 8. novembra u Muzeju savremene umetnosti da vide moju arhitekturu i tipologiju mojih kuća kroz vreme. Biće interesantno da se sagleda kako sam koristio elemente, boju, volumetriju… Tih 80 objekata koje predstavljam kroz vremensku liniju su jedan mali film, dokumentarac koji traje 20 godina, kroz koji će ljudi moći da me upoznaju i kao ličnost i kao arhitektu.
Tih 80 objekata na izložbi su jedan mali film, dokumentarac koji traje 20 godina, kroz koji će ljudi moći da me upoznaju i kao ličnost i kao arhitektu.
Kada gledate objekte koji će biti prikazani na vašoj izložbi, da li biste ih danas menjali?
Ja bih svaki svoj objekat sada uradio drugačije! (smeh) Na jednom predavanju u Beogradu sam bio kritičan prema svojim objektima i onda mi je kolega Bojan Kovačević rekao da ne smem tako da pričam o svojoj arhitekturi. Ja opet ne mogu drugačije. Kada bih svaki moj objekat analizirao, našao bih puno mana iako to ljudi možda i ne primete. Ipak, izlažem zato što sam zadovoljan svojom arhitekturom.
Kontinuitet rada je veoma bitan kao i napredovanje i učenje. Svaki put kada krenem da projektujem novi objekat, imam osećaj kao da je prvi u životu. Neki put ga smislim odmah, a ponekad je potrebno da prođe izvesni vremenski period da bi sve stvari legle na svoje mesto. Ali nikad ne pakujem projekat dok nisam zadovoljan.
Iako ne znam hoće li će se zgrada svideti ljudima, uvek se trudim da dam svoj maksimum što je krajnje pošteno i prema klijentu i prema budućim korisnicima. Koliko me tržište bilo htelo, toliko ću i živeti kao arhitekta. Nadam se da će to potrajati…
Kad ste već ovde…