Niz nadovezanih bokseva stvaraju veliku asimetričnu građevinu razigranog oblika koji neke podseća na ozelenjeno brdo, a neke na zigurat.
Proslavljeni arhitektonski studio BIG je projekat prvobitno predložio 2016. godine, ali je zbog radova koji su u ovom istorijskom delu Toronta već bili u toku, morao je da bude odložen. Međutim, Bjarke Ingels je konačno dobio zeleno svetlo za izgradnju još zelenijeg projekta King Street West u Torontu.
Dizajn ovog projekta u potpunosti odudara od jezgra grada, zbog čega je kod nekih kritičara izazvao negodovanje, ali zbog svoje kompleksnosti i ambicioznosti autora definitivno zavređuje pažnju. No, kako kritičar Alex Bozikovic piše za The Globe and Mail, pravo je pitanje dali će BIG svoju ideju o vertikalnom selu uspeti da prilagodi i američkom kontinentu.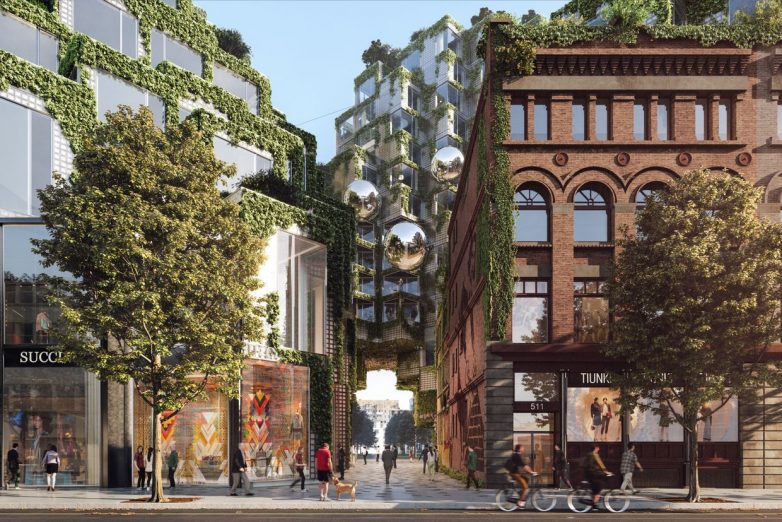 Zgrada je osmišljena kao niz nadovezanih bokseva koji stvaraju veliku asimetričnu građevinu razigranog oblika.
Jednim delom, projekat ulazi i u javni prostor u ovom delu grada, budući da plan podrazumeva i oblikovanje određenih javnih površina poput velikog centralnog trga i pešačkih ruta. U višenamenskom objektu, svoje mesto će naći mnogobrojni maloprodajni objekti, butici i kancelarije. Ipak, najveći deo objekta namenjen je stanovanju.
Iako je ovaj stambeni blok organizovana na tradicionalni način – s trgom u sredini – njegov oblik je vrlo zanimljiv. Naime, BIG-ova građevina osmišljena je kao niz piksela, odnosno bokseva koji se nadovezuju jedan na drugi i tako stvaraju veliku asimetričnu građevinu razigranog oblika s brojnim otvorima i zelenim terasama. Svaki od pomenutih piksela je dimenzije jedne prosečne sobe i svaki je zakrivljen pod uglom od 45 stepeni u odnosu na ulicu kako tokom dana korisnicima omogućio što duži prodor svetlosti i vazduha.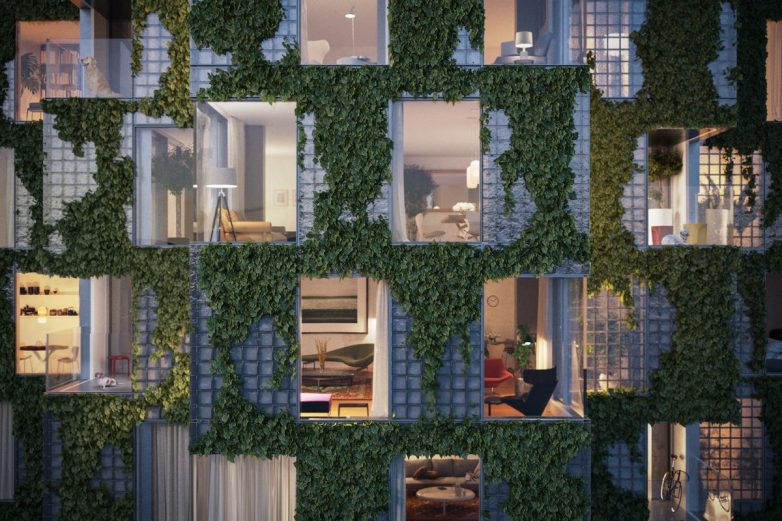 Zigurat u Torontu
Sama fasada ima brojna udubljenja kako bi zelenilo što lakše moglo da se raširi po čitavom objektu. Arhitekte iz studija BIG naglašavaju da ovaj projekat smatraju utopijskim eksperimentom smeštenim u srcu grada, a da su inspiraciju za ovaj nesvakidašnji dizajn našli u radu slavnog arhitekte Moshe Safdija.
Međutim, nisu svi oduševljeni izgledom ovakve fasade, i to ne zato što je ona liči na brdo već što njena struktura napadna i što previše štrči u odnosu na komšiluk. Delu javnosti se sviđa, a delu je. Isto tako je i sa strukom. Ova arhitekturu nazivaju hrabrom ali radikalnom, dok ju je pomenuti arhitektonski kritičar prozvao ziguratom (hram u drevnoj mesopotamskoj dolini u obliku terasaste piramidom). Kako se vama čini?
Kad ste već ovde…