Za razliku od beogradskog Salona arhitekture, novosadska i niška smotra svojim selekcijama pokazale su svoju vrednost i atraktivnost, samim tim što podjednako privlače pažnju kako domaćih tako i inostranih učesnika.
U Novom Sadu se nedavno završio Salon arhitekture, dok u Nišu do kraja oktobra traje arhitektonski Trijenale. Obe manifestacije prikazale su odličnu smotru stručnih radova, kako iz Srbije tako i iz regiona, a po projektima koji su dobili nagrade, možemo slobodno reći da su obe manifestacije u dobroj meri zasenile beogradski Salon arhitekture. Bez obzira da li su u pitanju realizacije, neizvedena rešenja ili enterijeri, u Novom Sadu i Nišu je bilo veoma uzbudljivo ovih dana.
Iako je beogradski Salon arhitekture centralna stručna manifestacija, sa tradicijom dugom preko 40 godina, koja po pravilu svake godine ugosti najznačajnije projekte iz cele države, ovaj put se dogodilo da su novosadska i niška smotra postigle zapaženije rezultate. Da li je moguće da se u Beogradu sve manje projektuju autorska rešenja ili su izostale prijave arhitekata iz unutrašnjosti ili je žiri jednostavno morao da nagradi izvedbe javnih objekata ili… Jako puno nedoumica i pitanja, a kada se pogleda rezultat, beogradske kolege nisu baš oduševljene.
Iako je beogradski Salon arhitekture centralna stručna manifestacija, ovaj put se dogodilo da su novosadska i niška smotra postigle zapaženije rezultate.
Gran pri beogradskog Salona odneo je projekat rekonstrukcije i dogradnje Muzeja savremene umetnosti u Beogradu, arhitekte Dejana Todorovića, u kategoriji izvedene arhitekture nagradu je poneo poslovno-trgovački i hotelski centar Rajićeva, arhitekata Milana i Vladimira Lojanice, u kategoriji gosta salona (inostranstva) pobedila izvedba hotela u Crnoj Gori, arhitekte Branislava Mitrovića, dok je u kategoriji enterijera pobedila realizacija štanda za Sajam knjiga – 4 zemlje 1 jezik, arhitekata Bojane Marković i Davida Bilobrka.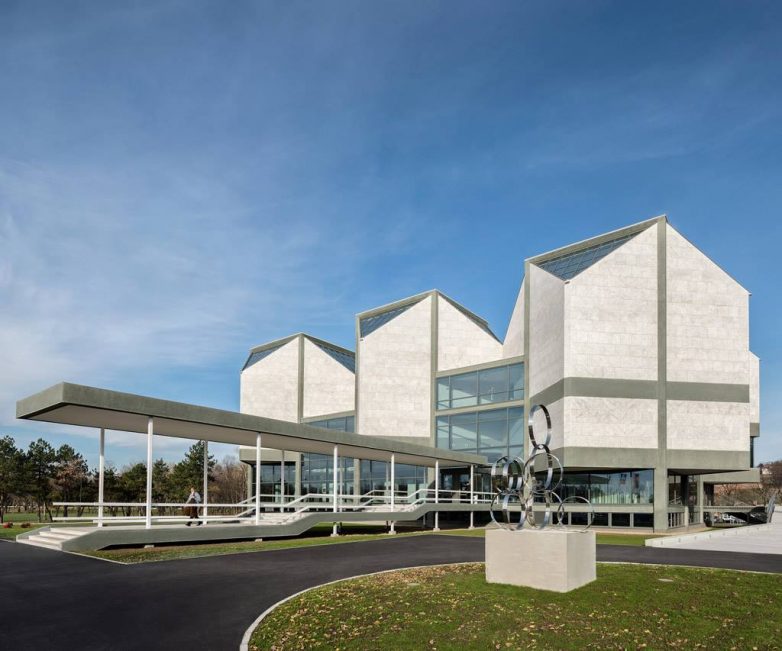 Ne kažemo da ova dela ne zaslužuju nagrade i da su loša, ali nekako ne deluje ubedljivo da prvu nagradu jedne izložbe ponese rekonstrukcija zaštićenog objekta – koliko god ona maestralno bila izvedena – ili za arhitekturu objekat čija realizacija traje već 18 godina. Ovom prilikom se nećemo baviti priznanjima i pohvalama, ali ako prelistate katalog beogradskog Salona videćete da su u tim kategorijama osvanula izvedena rešenja koja su vrlo lako mogla da osvoje jednu od glavnih nagrada, jer su inovativnija i originalnija nego neka od navedenih rešenja. Ali, nisu javni objekti, pa je verovatno i odluka žirija bila u skladu sa ovom činjenicom.
Novosadski salon
Da bi dobili bolju selekciju, Novosađani su promenili propozicije smotre, dozvolivši da inostrana rešenja ravnopravno konkurišu za neku od nagrada. Nešto slično kao na Balkanskom arhitektonskom Bijenalu, prispela su rešenja iz regiona, a vidna je dominacija hrvatskih i slovenačkih kolega. Nagrađeni radovi su veoma zanimljivi i pokazuju u kom pravcu bi i naša scena mogla da se dalje razvija.
U kategoriji izvedene arhitekture nagradu je osvojio projekat crkve Sv. Janeza Boska u Mariboru, grupe DANS arhitekti. U kategoriji urbanizma nagradu je ponelo rešenje Trg ispod dvorca i igralište "Zamorc", projektnog biroa Ravnikar Potokar iz Slovenije. Nagradu za najbolji enterijer odneo je projekat Garderoba concept store, tima BIRO iz Zagreba. U kategoriji publikacija nagradu je osvojila monografija pod nazivom Eternal Architect. The Life and Art of Jože Plečnik, Modernist Mystic/Večni arhitekt. Življenje in delo Jožeta Plečnika, modernističnega mistika, autora Noah Charney.
Kao što se vidi, apsolutna pobeda slovenačkih kolega, ali i hrvatskih koji su imali par priznanja i pohvala. Odlična rešenja koja se retko viđaju na domaćoj sceni. Da li se to na novosadsku smotru nisu u dovoljnoj meri odazvali lokalni autori, pre svega iz Vojvodine ili su njihova dela ostala u senci stranaca, tek rezultati novosadskog salona daju nam ovakvu sliku struke.
Niški salon
Nišlije su ostale dosledne konceptu lokalne smotre, koja je ove godine prijatno iznenadila publiku. Bilo da su u pitanju nagrađeni ili radovi koji su dobili priznanje/pohvalu, selekcija na niškom Trijenalu je odlična. Nagradu za najbolju realizaciju osvojio je projekat Branković Montain Resort na Staroj planini, niškog biroa ALTERNO. Nagradu za najbolji nerealizovani projekat ponelo je rešenje arhitekata Saše Buđevca I Miljane Ignjatović, dok je nagradu za najbolji enterijer otišlo još jednom arhitekti Buđevcu, ovaj put Andreji u saradnji sa kolegom Dušanom Kocićem. U kategoriji studentskih radova, nagradu je osvojio projekat Nemanje Ranđelovića, na temu stambene zgrade sa stanovima za student, dok je u kategoriji publikacija nagradu osvojila monografija Izgradnja studentskih domova u Srbiji početkom 21. veka, autora Nikole Cekića i Miomira Vasova.
Ponovo, žao nam je što se u ovom pregledu ne možemo baviti i drugim prispelim radovima, ali sekcija izvedenih projekata je imala još nekoliko veoma jakih konkurenata za glavno odličje, što samo govori da Niš već uveliko pokazuje da ide u korak sa vremenom regionalne ili evropske scene.
Trka za kvadratima u prestonici
Šta nam najviše govore ovi rezultati? Da su novosadska i niška smotra svojim selekcijama pokazale svoju vrednost i atraktivnost, samim tim što podjednako privlače pažnju kako domaćih tako i inostranih učesnika. Da su nagrađeni radovi u nekim slučajevima pokazali veću zrelost nego nagrađeni radovi beogradskog Salona, koji po nekom pravilu prednjači u kvalitetu izloženih i nagrađenih radova. Da beogradske kolege pod hitno moraju da pokažu, bar prvonagrađene radove obeju izložbi, svojim investitorima, kako bi isti prestali s poručivanjem i insistiranjem na monotonim, prevaziđenim i do krajnje mere komercijalnim rešenjima, jer po ovome ispada da se u Beogradu gotovo i ne projektuje autorska arhitektura, već da prestonica prednjači isključivo po površini kvadrata koji se grade.
Ovo isto važi i za gradske i/ili republičke čelnike, koji bi konačno mogli da krenu u realizacije javnih objekata, na primer muzeja i drugih kulturnih institucija, za koje su održani mnogobrojni konkursi, a na kojima je između ostalog pobedilo i rešenje tog istog Vladimira Lojanice, a koje je daleko inventivnije od njegovog sadašnjeg nagrađenog projekta.
Veliki je doprinos to što smo posle 10 do 15 godina konačno otvorili vrata od dva najznačajnija umetnička muzeja, ali moramo što pre sa rekonstrukcija krenuti u realizacije novih objekata, jer po slici koju sada imamo, u Beogradu se javni projekti ne izvode već godinama, što dosta govori o stanju duha jednog društva, to jest, okruženja u kojem stvaraju naše arhitekte.
Kad ste već ovde…