Nijedna opeka na fasadi ove zgrade u centru Beograda nije nova već je svaka od njih već odslužila svoj vek. Ali to ne znači da one nisu mogle biti ponovo upotrebljene…
U poslednjih nekoliko meseci u stručnoj javnosti mogla se često čuti jedna reč – Zabriskie. To je ime jednog, već uveliko dobro pozicioniranog arhitektonskog studija koji je sve poznatiji i široj javnosti. Najpre su zablistali na dva javna konkursa – za novu zgradu Ansambla Kolo, na Kosančićevom vencu u Beogradu, a zatim i za novi pešačko-biciklistički most u Novom Sadu.
Na oba konkursa su osvojili prvu nagradu i time potvrdili da osim projektovanja i konsaltinga, najviše na polju stambeno-poslovne arhitekture, imaju i odličan smisao za javne objekte, a da im originalnost, inovativnost i likovnost u oblikovanju prostora podjednako dobro leže kao profesionalna komunikacija sa investitorima i poslovnim partnerima.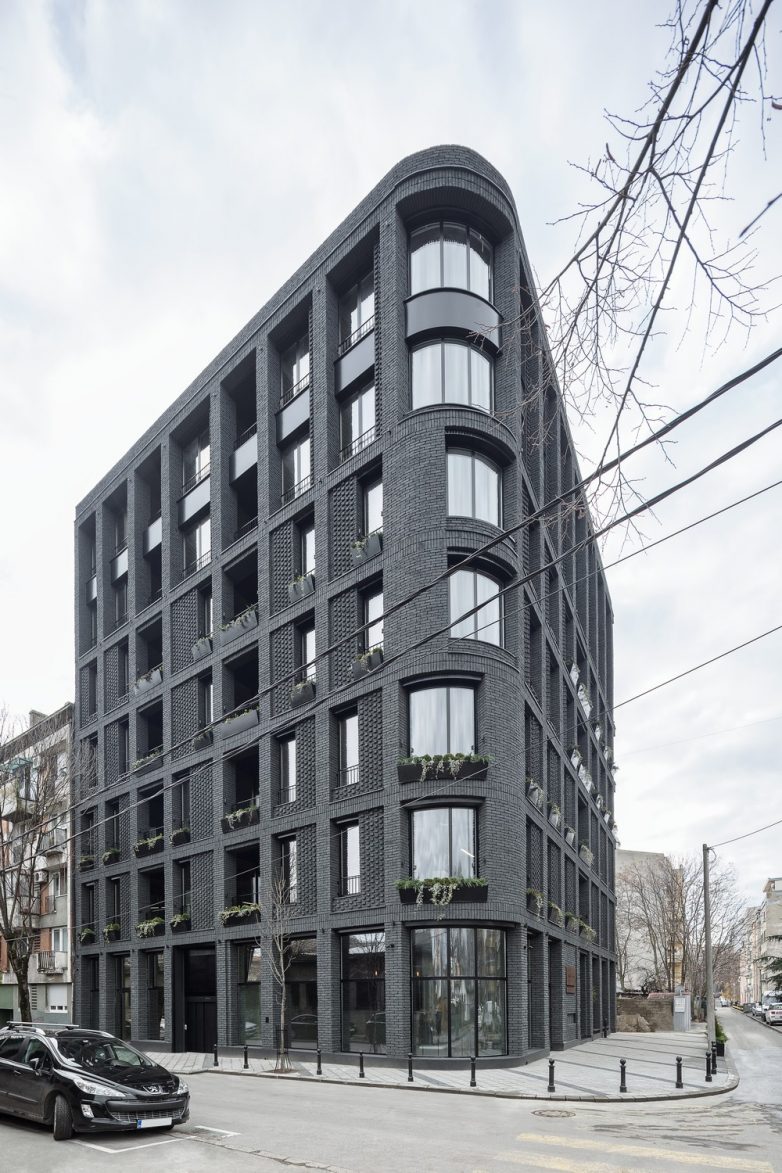 Objekat je izgrađen na prostoru donjeg Dorćola, dela grada za koji se vezuje identitet industrijskog arhitektonskog nasleđa.
Na regionalnoj smotri Balkanskog arhitektonskog bijenala, studio Zabriskie učestvuje sa jednim od svojih tek izvedenih objekata, pod nazivom Mia Dorćol. Rešenje je odmah privuklo pažnju domaće i inostrane publike, a neki od gostiju izložbe su pitali gde se nalazi lokacija objekta, kako bi uživo mogli da sagledaju njegove kvalitete. Iz tih razloga, ova zgrade zahteva da joj se pokloni posebna pažnja i nešto detaljnije opiše njen koncept u arhitektonski izraz.
Objekat je izgrađen na prostoru donjeg Dorćola, dela grada za koji se vezuje identitet industrijskog arhitektonskog nasleđa, koji je svojim prisustvom uticao na njegovo oblikovanje. Zgrade poput Stare opštinske centrale (danas Muzej nauke i tehnike), termoelektrane Snaga i svetlost, kao i Magacina banke Nikole Boškovića, samo su neke od značajnih industrijskih objekata koji su svojim formama oblikovali lice donjeg Dorćola.
Čikaška škola
Industrijske forme, naročito zbog upotrebe opeke kao primarnog fasadnog materijala, veoma su bliske arhitekturi Čikaške škole, koja nastaje krajem 19. veka u ovoj poslovnoj američkoj metropoli, pa se uviđa još jedan uticaj na oblikovanje zgrade Mia Dorćol.
Takođe, kada pogledamo raspored punih masa i prozorskih otvora, zapažamo da su se autori rukovodili i idejama strukturalizma, arhitektonskog pravca koji je trasirao modernu arhitekturu u posleratnom periodu. Naravno, sve ovo ne bi bilo moguće da se zamisao arhitekata nije poklopila sa senzibilitetom investitora, u ovom slučaju Nikole Lazića i kompanije Granit invest.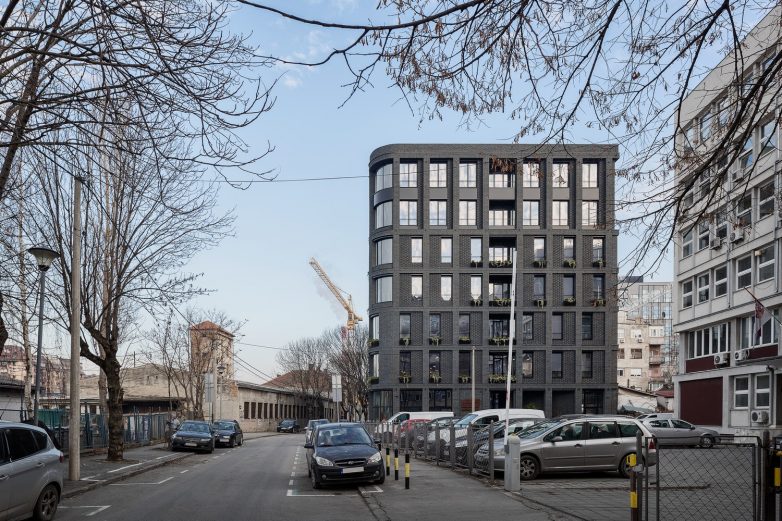 Ova opeka nije nastala kao tehnološka reciklaža od ostataka, nego je već ona bila ugrađena na drugim objektima.
Parcela na kojoj je izgrađen objekat nalazi se na uglu ulica Mike Alasa i Braće Baruh, što je arhitektama dalo više slobode u oblikovanju. Prvo što prolaznik primeti jeste taj zapadnjački, čikaški umetnički izraz, ne tako svojstven za našu sredinu, koji poseduje eleganciju i atraktivnost bilo da su u pitanju stambeni ili poslovni objekti.
Tu dolazimo i do druge osobenosti, koja je i mnogim kolegama iz struke zapala za oko, a to je da zgrada ne poseduje formu tipičnu za jednu poslovnu zgradu i da se vrlo lako može pomešati sa stambenim objektom. Za to je odgovorna struktura fasade sa ravnomernim rasporedom punih masa otvora, ali i materijal od koje je ista izvedena.
Identitet i toplinu zgradi dala je reciklirana opeka, u ovom slučaju proizvođača Sertechnics, puna cigla i listela "Venecija". Veoma je zanimljiva činjenica da je ova opeka nije nastala kao tehnološka reciklaža od ostataka, već da je ona bila ugrađena na drugim objektima. Cele opeke su čišćene i sečene, a posto tako dobijene opeke imaju različitu boju i teksturu, jer im je poreklo sa različitih objekata, završno je opeka za Miu Dorćol bojena specijalnom bojom koja je istovremeno i impregnira opeku.
Tri različita sloga opeke
Cela fasada je rađena kao sendvič fasada, dakle klima blok, termoizolacija, puna fasadna opeka nošena na donjoj horizontalnoj gredi i kačena potkonstrukcijom za primarnu konstrukciju, a na mestima pilastera i horizontalnih greda, rađen je betonski sendvič  i na njega je završno postavljana reciklirana listela.
Na fasadi su primenjena tri različita sloga opeke. U zoni vertikalnih pilastra je rađen slog "dužnjačke veze", sa preklopom od jedne polovine opeke, iz čijeg rasporeda i veličine su proizašli veličina pilastra i ritam cele fasade. U zoni horizontalnih venaca opeka je slagana u nasatičnom rasporedu, a sve to iz dva razloga – prvi da bi se razbila uobičajena monotonija ciglene fasade, koja bi nastala poklapanjem vertikalnih i horizontalnih elemenata, a drugi da bi se ispoštovao tradicionalni sistem zidanja nadvratnih i nadprozornih greda i lukova.
U poljima između prozora primenjen je slog "gotske veze", gde je svaka druga opeka u polje prepuštena za jednu trećinu svoje dužine. Ovako ugrađena tri različita sloga korišćena su da bi se postigli odgovarajući ritam i tekstura, kako detalja tako i celine. Sve ovo je išlo u korist želje investitora da se upotrebi korišćena opeka, da objekat bude značenjski i ambijentalno kontekstualizovan, a opet projektovan i izgrađen po nasavremenijim standardima.
Najveći izazovi u projektovanju su bili usklađivanje statike, funkcionalne organizacije objekta i ritam sloga fasade.
Najveći izazovi u projektovanju su bili usklađivanje statike, funkcionalne organizacije objekta i ritam sloga fasade, što je naročito važno kada se radi sa punom opekom, kod koje se i najmanje greške na fasadi vidno poznaju i estetski narušavaju utisak arhitektonskog izraza.
Što se tiče enterijera, on je u procesu izvođenja, a po ulaznom lobiju možemo primetiti da je u duhu aktuelnog industrijskog dizajna, koji se u ovom slučaju uklapa u industrijsku estetiku arhitekture. Upotrebljeni su puno drvo, kao i armatura i čelični kutijasti profili, a autori su vodili računa i o detaljima, iako se oni za poslovne zgrade najčešće izvode tipski.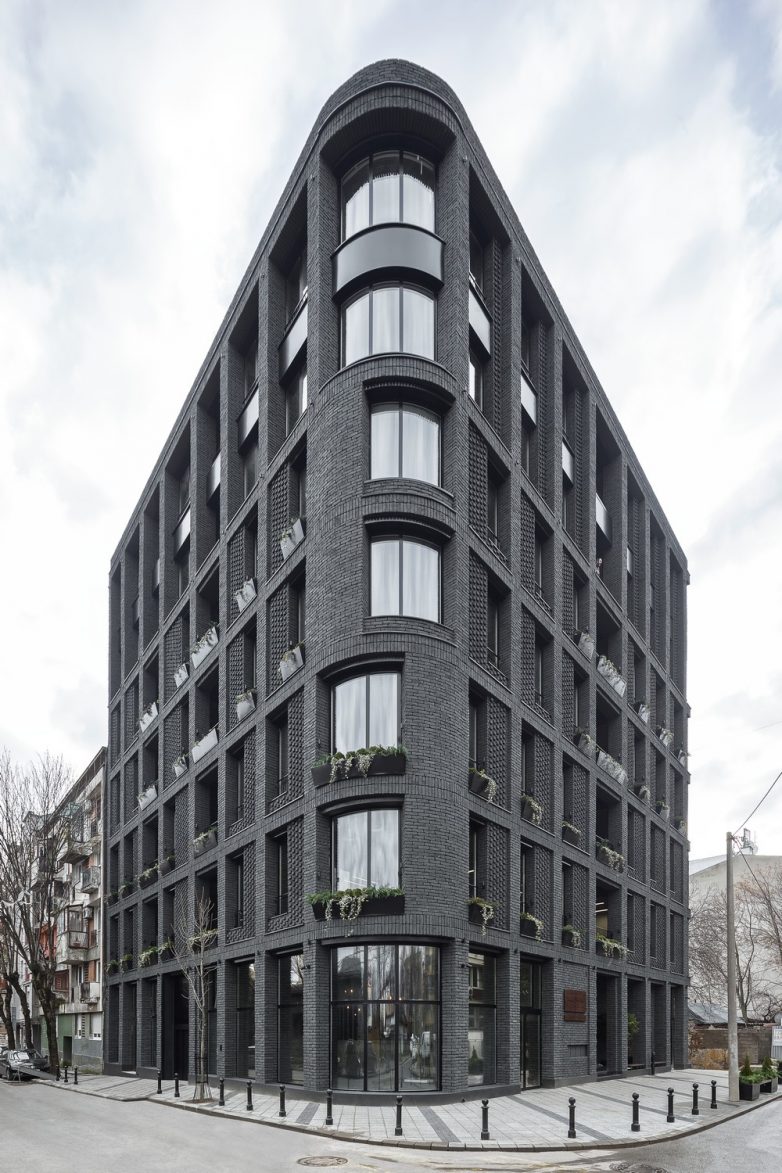 Pepeljuga
Zgrada je nazvana Mia Dorćol, ali se zbog karakteristične arhitekture, to jest, upotrebe sivo-pepeljaste opeke, može očekivati da zgrada ponese i neki zanimljiv nadimak, što je svojstveno za svaku zgradu koja se svojim karakterističnim izrazom razlikuje od drugih. Na primer, Pepeljuga?
Faktografija
Ime objekta: Mia Dorćol
Autor: Zabriskie studio
Namena objekta: Poslovno-stambeni
Mesto: Beograd
Investitor: Granit invest doo
Generalni izvođač: Granit invest doo
Površina: cca 2500m2
Godina projektovanja: 2017/2018
Godina izvođenja:  2019
Fotografija: Relja Ivanić
Kad ste već ovde…