Restoran Under nudi iskustvo kao nijedan evropski ugostiteljski objekat do sada, a pritom predstavlja i veličanstven rezultat jedne velike inženjerske avanture. 
Proslavljeni norveški studio Snohetta završio je dugoočekivani projekat podvodnog restorana u udaljenom gradiću Bali na Severnom moru. Objekat je dizajniran kao potopljeni periskop koji ukupno zauzima oko 450 kvadratnih metara. Ulaz u objekat izdignut je iznad površine mora, a njegov zadnji deo silazi u dubinu mora odakle se kroz veliki panoramski prozor pruža fantastičan pogled na podvodni život.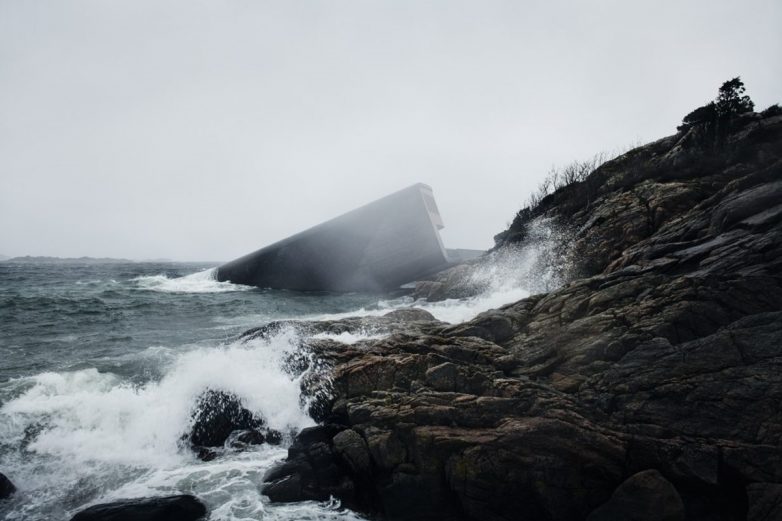 Betonski objekat je dizajniran kao potopljeni periskop koji dodiruje morsko dno.
Objekat će se inače koristiti ne samo kao restoran već i kao centar za istraživanje mora. Može da primi do 40 osoba i predstavlja prvi objekat tog tipa u Evropi.
"Za većinu nas, ovo je potpuno novo iskustvo. U pitanju nije akvarijum, nego pravi uvid u dubinu Severnog mora, i to je veoma zanimljivo. Na taj način nas ovaj objekat vodi direktno u divljinu, što može da bude veoma romantično i lepo iskustvo", rekao je Rune Grasdal, glavni arhitekta za Dezeen.
Bezbedno i neklaustrofobično
Under je dizajniran da bude što jednostavniji, i to u obliku monolitne betonske cevi dužine 34 metra. Zidovi su  mu blago zakrivljeni i debeli pola metra, što pruža optimalnu otpornost na sile talasa i pritiska vode. Arhitekte kažu da se zahvaljujući ovakvom projektu gosti restorana osećaju bezbedno, ali ne i klaustrofobično.
Betonskim zidovima je ostavljena izložena, hrapava struktura kako bi alge i mekušci mogli da se kače na nju. Ideja je da se vremenom na ovaj način stvori veštački greben koji će imati ulogu prečišćivača vode, a tako će privuči još veći broj podvodnih organizama.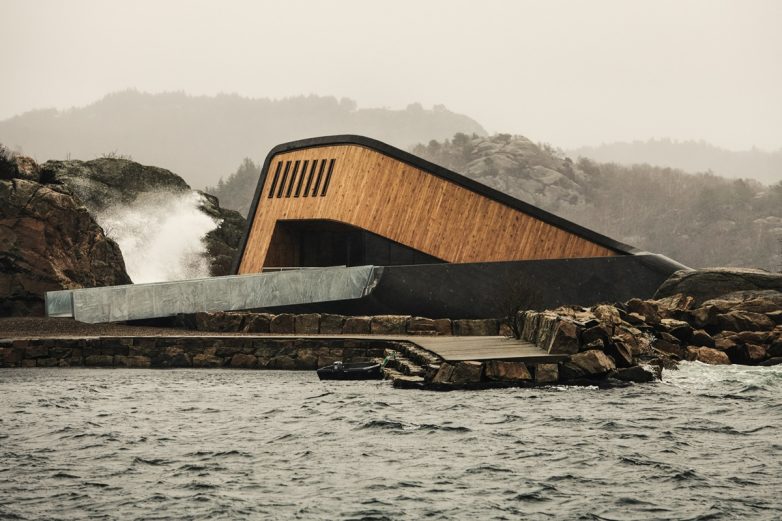 Ulaz od hrastovine
Zanimljivo je da se u restoran pristupa neobrađenim ulazom od hrastovine koja se nastavlja unutar zgrade gde postaje očigledno da uglađena obrada drveta stoji u kontrastu s njenim eksterijerom. Ovom celom projektu daje poseban šmek, a gostima pomaže da se osećaju prijatno u poznatom ambijentu.
Restoran ima tri nivoa, uključujući foaje i garderobu, šampanj bar i glavnu salu na donjem spratu. Svaku od ovih celina povezuju ogromne hrastove stepenice.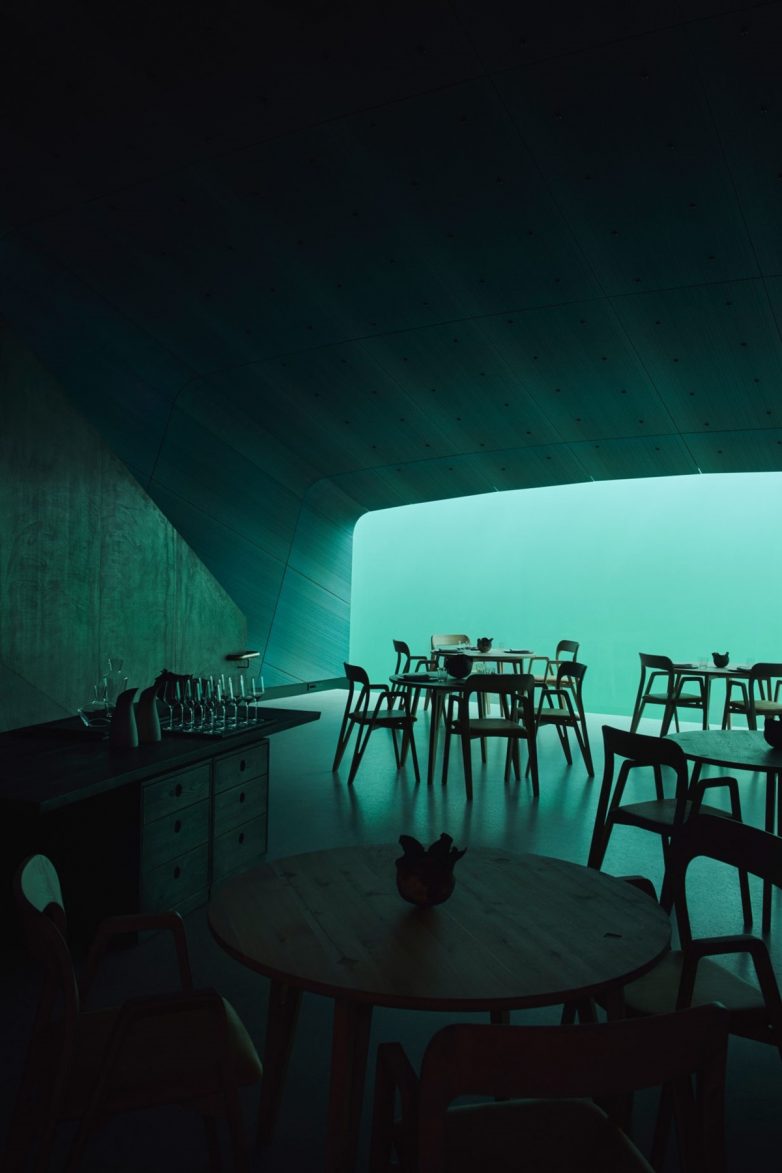 Centralna tačka restorana je panoramski prozor od akrilnog stakla, koji se može videti sa svakog nivoa unutar zgrade.
Centralna tačka restorana je panoramski prozor od akrilnog stakla, koji se može videti sa svakog nivoa unutar zgrade. Prostire celom širinom restorana i dimenzija je 11×3 metra. Kako bi posetioci mogli da posmatraju morski svet kroz akrilne prozore tokom noći, Snøhetta je ukombinovala blago osvetljenje na morsko dno s prigušenim unutrašnjim osvetljenjem.
"Ideja je bila da se stvori svetlosni gradijent, počevši od svetlih do dubljih boja na morskom dnu," objasnio je gavni enterijerista Heidi Pettersvold Nigaard.
Paneli inspirisani morem
U glavnoj trpezariji, teraco podovi su upareni s dubokim plavim i zelenim akustičnim panelima inspirisani prizorima morskog dna, algama i grubim morem. Iznad toga nalazi se šampanj bar okupan u ružičastim i narandžastim tonovima koji asociraju na školjke i pesak na obali.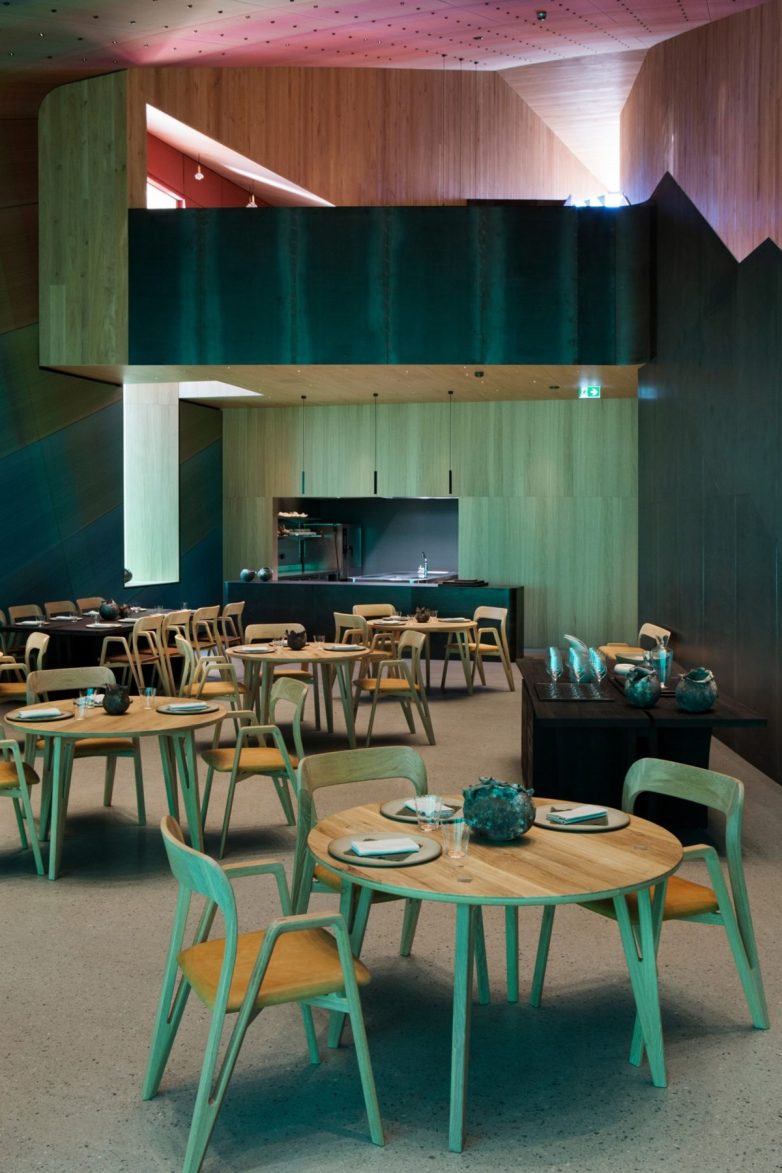 Nameštaj u enterijeru je takođe mahom urađen od hrastovine, a poneki elementi su ukrašeni keramikom koju je dizajnirao lokalni umetnik koristeći pesak iz morskog dna.
U narednoj galeriji pogledajte još slika projekta. Fotografije u galeriji potpisuje Ivar Kvaal.
Ovde možete pogledati i kako izgled presek objekta: 
Kad ste već ovde…