O uticaju politike na gradove, o tome kakva nam je arhitektura danas a kakva je bila nekad, ali i o budućnosti Spensa, pričamo sa Slobodanom Jovićem i Reljom Ivanićem.
Impozantni, spektakularni, zanemareni. Objekti jugoslovenskog arhitektonskog nasleđa deo su naše životne svakodnevnice. O njima znamo premalo, a kao društvo cenimo ih još manje. Za članove Društva arhitekata Novog Sada to je bila inicijalna kapisla za pokretanje istraživačkog projekta Jugoslovenski modernizam u Vojvodini. Na izložbi Fokus na modernizam: Arhitektura Novog Sada 1970-1985, početkom ove godine, prikazani su rezultati drugog kruga istraživačkog procesa. Kroz fotografiju velikog formata, ilustrovana je priča o šest najznačajnijih objekata novosadske arhitekture, njihovom sadašnjem životu i slavnoj istoriji. U intervjuu za naš portal, Slobodan Jović, predsednik Društva arhitekata Novog Sada, i Relja Ivanić, arhitekta, fotograf i autor fotografija, govore o problematici jugoslovenskog arhitektonskog nasleđa, zajedničkoj saradnji, ali i pitanju budućnosti zgrade SPENS-a.
Fokus na modernizam: Arhitektura Novog Sada 1970-1985 izložba je koja u središte pažnje postavlja arhitekturu druge polovine XX veka. Zašto su objekti modernizma iz jugoslovenskog perioda u Novom Sadu danas toliko zanemarena tema? U čemu je problem?
R: Postoji ideološki otklon prema društvu i arhitekturi tog perioda. On je višeslojan, jednim delom vezan za odnos komunizam vs kapitalizam, ili kolektivno vs privatno, a drugim delom za proizišlu pojavnost i kvalitet gradnje.
Ukoliko pogledamo radove na salonima arhitekture kroz istoriju, videćete da se enterijeri u zadnjih desetak godina najviše izlažu i da je najveći "napredak" postignut na tom polju, dok na salonima od pre više od 30 godina skoro da enterijera nije ni bilo. Razlozi za to leže u finansijskim mogućnostima, kao i u promeni ideologije. Deluje da smo se okrenuli ka unutra. Možda jer nam deluje kao da je to savladiv problem.
Politika je glavni razlog zašto nam gradovi izgledaju kako izgledaju.
Politika je glavni razlog zašto nam gradovi izgledaju kako izgledaju. Glavni period razvoja Novog Sada se desio u periodima kojima smo se bavili kroz dosadašnje izložbe (1950-1970 i sada 1970-1985). Probili su se bulevari, infrastrukturno se povezao grad sa ostatkom vojvodine preko Železničke stanice, a stanovništvo obrazovalo kroz novi univerzitetski kampus, a o zdravom telu se pobrinuo Spens. Koje su odluke nakon ovog perioda donesene u cilju daljeg razvoja grada?
S: Ja bih se ovde složio sa Reljom i dodao da je to upravo naša uloga – da damo argumente zašto smatramo da je arhitektonsko nasleđe ovog perioda vredno pažnje, istraživanja i očuvanja.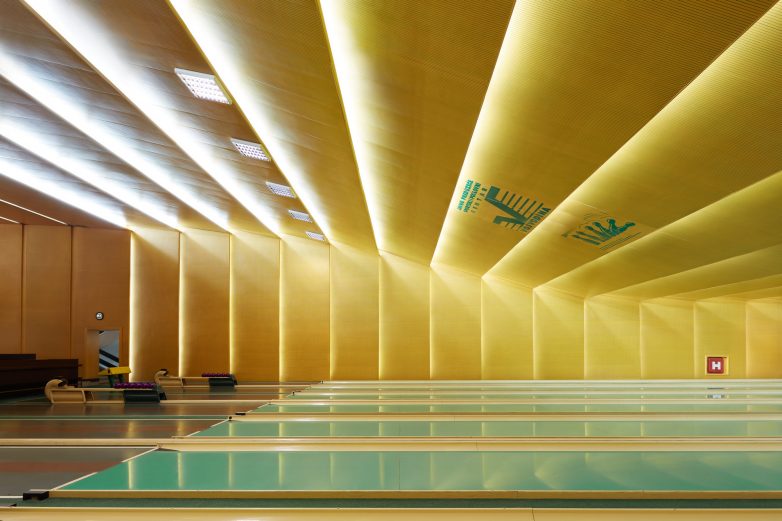 A kako je uopšte došlo do međusobne saradnje? Kako ste došli na ideju istraživanja modernističkog graditeljskog nasleđa Vojvodine?
R: DaNS mi je uputilo poziv za saradnju nakon izložbe Beogradski brutalizam, koju smo Marija Strajinić i ja imali zajednički u galeriji Kolektiv arhitekata, u Beogradu. Za mene je izazov prikazati objekte iz tog perioda na način koji ilustruje njihove vrednosti. Izazov koji retko postoji u komercijalnom fotografisanju arhitekture. Treba naći put kroz sve naslage nepažnje, ili ponekada čiste bahatosti, koju trpi ta arhitektura. Ponekada je jedino rešenje detaljno retuširanje svih fotografija, kako ne bi pažnju od suštine odvraćale nebrojene reklame, neadekvatan mobilijar, ili druge forme vizuelnog zagađenja.
S: Kao jedna od osnovnih ideja delovanja tima koji vodi DaNS od pre tri godine jeste bilo i adekvatno pozicioniranje i valorizacija arhitektonskog nasleđa ovog perioda koje je po našem utisku, veoma zanemareno i potcenjeno, a zapravo bolje reći nikad ni sagledavano kao vredno. Pošto se radi o kompleksnoj temi rešili smo da projekat vodimo u dva paralelna toka – jedan je strukturalno i dubinsko istraživanje objekata, sakupljanje arhive i analiziranje višeslojnih uticaja koji su oblikovali ovu arhitekturu, dok smo paralelno želeli da na efikasan i atraktivan način pokrenemo priču o ovoj temi, što se kroz format fotografije moglo postići. Taj put nas je logično doveo do saradnje sa Reljom.
Na prethodnoj izložbi prikazana je arhitektura Novog Sada u periodu od 1950. do 1970. godine. Koje su razlike a koje sličnosti između "prvog" i "drugog" perioda modernizacije vojvođanske prestonice?
R: Imam utisak da se već 70ih zašlo u neki oblik nadrealnog razvoja, barem kada se posmatra iz današnje perspektive. Objekti su sve veći i složeniji, a pojavnost sve ekspresivnija. Vidi se da su ambicije bile ogromne. Mi se sada nosimo s tim ambicijama – i to uglavnom loše. U tom smislu objekti iz 50ih i 60ih prolaze mnogo bolje danas. Lakše ih je prenameniti, obnoviti, ili revitalizovati. Tu su naše današnje mogućnosti ipak tema, pre nego kvalitet i promišljenost tadašnjeg planiranja. Čovek kad zida kuću ne planira da će sutradan ići u rat.
Čovek kad zida kuću ne planira da će sutradan ići u rat.
S: Razlike koje se javljaju između objekata dva ciklusa se zaista mogu vezati za linearan razvoj društva koji su ih proizveli. Dok se u prvom ciklusu objekti vezuju uglavnom sa fundamentalne odrednice razvoja Grada kao što su trasiranje saobraćajne i železničke infrastrukture, uspostavljanje sistema kanala Dunav-Tisa-Dunav, ali i osnivanja Univerzitetskog centra, u drugom ciklusu selektovani objekti govore o kapacitetu društva da se bavi "finijim" temama koji se tiču direktno kvaliteta života pojedinaca. Tako su teme sport i rekreacija (SPENS), trgovina (Stoteks), razvoj računarske tehnologije (Novkabel ERA), osiguranja imovine (DDOR). Takođe, kroz izgradnju Filozofskog fakulteta razvija se sistem visokog obrazovanja pomerajući se sa primarnih smerova vezanih za razvoj industrije i poljoprivrede. U političkom smislu kroz objekat Elektrovojvodine imamo refleksiju, usložnjavanja političkog sistema i uspostavljanja autonomije Vojvodine, a formiranje zasebne kompanije koja upravlja energetikom na području Vojvodine predstavlja odraz ustavnih promena iz 1974. godine.
I u oblikovnom smislu se može konstatovati ista stvar, a jasan je prelaz sa osnovnih postulata modernizma ka njenoj kritici i odjecima brutalizma, strukturalizma pa i high-techa. Naprednija tehnologija gradnje, upotreba materijala i slobodnije oblikovanje govori o uspostavljenom samopouzdanju arhitekata tog perioda. Ono što je ipak značajno napomenuti jeste da je arhitektura ovog perioda bila u potpunom skladu sa razvojem arhitektonske teorije i prakse na globalnom nivou, posebno onoga što se dešavalo na "zapadu".
Na izložbi Fokus na modernizam mogle su se videti fotografije šest antologijskih objekata poslovne i javne namene sa teritorije Novog Sada. Da li nam možete reći nešto više o kriterijumima selekcije?
S: Kao i u prvom ciklusu izložbe, objekti koji su prezentovani nisu birani isključivo u odnosu na njihove arhitektonske vrednosti. Upravo je bila ideja da kroz precizno selektovane objekte ispričamo priču o modernizaciji Novog Sada. Srećom naše građeno nasleđe ovog perioda je mnogo veće od ovih desetak objekata koje smo prezentovali i mi se i ostalim objektima bavimo kroz kontinuirani rad. Takođe i u dogovoru sa Reljom biramo objekte koji u formatu izložbe, kao što je arhitektonska fotografija, mogu da postignu najjači efekat. Kroz kratke tekstove u katalogu želimo da ukažemo na širu sliku, baveći se raznim kontekstima koji okružuju ovu arhitekturu. Takvo istraživanje nas uvek dovede do novih saznanja koja potpuno menjaju naš pogled na ove objekte, a to je upravo i ono što želimo da podelimo sa strukom i građanima. Tako na primer, spoznaja činjenice da je kula Novkabela u industrijskoj zoni bila sagrađena kao proizvodna i upravna zgrada ogranka kompanije Novkabel koja je razvijala i proizvodila kućni računar, za mene je lično bila neverovatno zanimljiva. Da podsetim radi se o 80-tim godinama prošlog veka.
Kula Novkabela sagrađena je kao zgrada kompanije koja je razvijala i proizvodila kućni računar. Da podsetim, radi se o 80-tim godinama prošlog veka.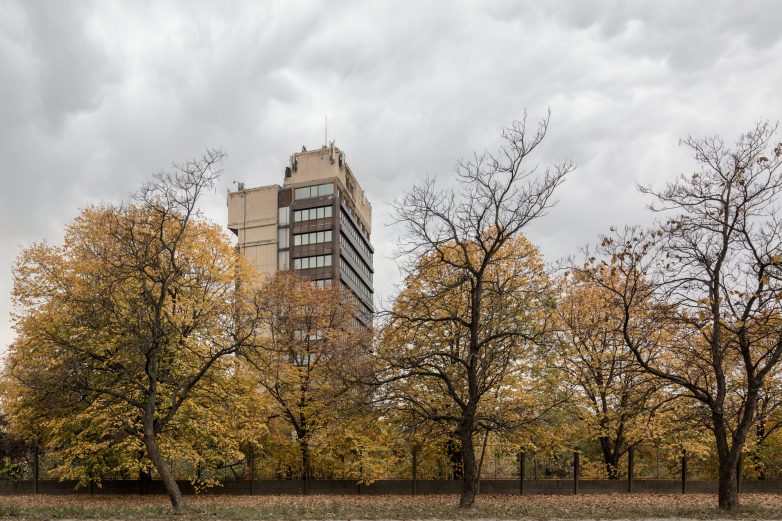 Jedan od prikazanih projekata jeste i zgrada SPENS-a. Najavljena mogućnost uklanjanja ovog objekta pokrenula je debatu između suprostavljenih strana. Koji je istorijat ovog objekta i zašto je ona značajna za savremeni identitet Novog Sada?
S: Spens je toliko značajan za arhitektonsko nasleđe Novog Sada da bi on svakako bio tema našeg projekta. Pomenute ideje o rušenju i rekonstrukciji samo su nas dodatno motivisale da uložimo još više energije u istraživanje ove značajne kuće. Nadamo se da ćemo uskoro i te sve rezultate istraživanja podeliti s javnošću. Što se tiče "suprostavljenih" strana mislim da je trenutno najveći problem što suštinski i ne postoje "strane". Mi ovde imamo situaciju u kojoj još ne možemo ni da raspravljamo o pravom modelu koji ćemo primeniti na Spens, jer se ozbiljno, sem pojedinaca, niko nije na adekvatan način ni upoznao s kompleksom problematikom Spensa. Dakle, imamo dve "strane" od kojih jedna traži interdisciplinarnu i dubinsku analizu postojećeg stanja pre razmatranja budućih scenarija, i drugu koja smatra da paušalnim i ad hoc rešenjima može na brzinu da se reši "problem" Spens-a. Svakome kome nije jasno da je Spens jedan od značajnih ne samo simbola grada, već i infrastruktunog sportskog objekta, nek razmisli koji rang sportskih takmičenja bi se mogao održavati u Novom Sadu da nema Spensa?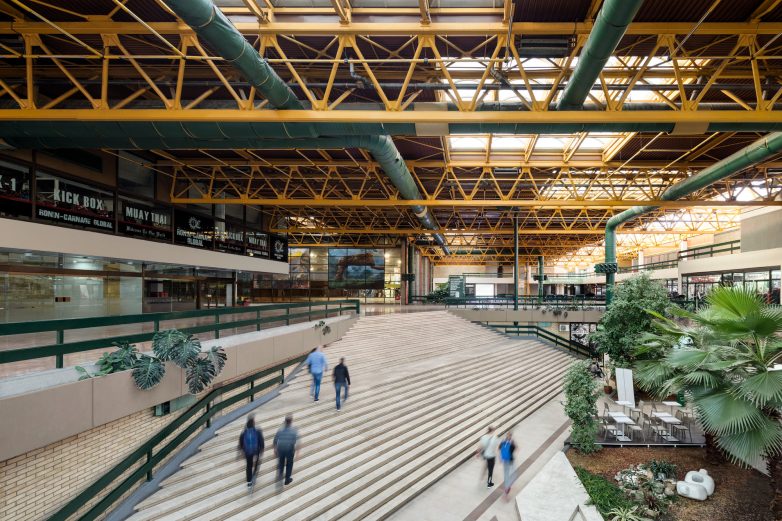 Značajan objekat koji je i dalje u funkciji je zgrada Filozofskog fakulteta. Šta je ova zgrada značila u trenutku kada je nastala, a koja je njena vrednost u današnjem trenutku?
S: Zgrada Filozofskog fakulteta je na ovom ciklusu izložbe sigurno bila najatraktivnija pojava. Ovaj objekat je jasno na tragu kritike moderne i u tom smislu interesantna je njegova pozicija u kampusu, koja je pored Poljoprivrednog fakulteta para Đorđević. S druge strane, sve projektantske odluke – upotreba modularnog konstruktivnog sklopa, upotreba materijala u prirodnom obliku i razvijanje prostora objekata – jesu bile odluke zasnovane na realnim potrebama i projektnim zadatkom. Po pitanju ovoga, Aleksandar Stjepanović, autor objekta, u razgovoru sa nama iznosi jednu zanimljivu konstataciju u pogledu vezivanja arhitekture za pravac Brutalizma i saopštava da: "Brutalizam nije posledica filozofije, nego posledica mogućih uslova". Ovo govori o pametnom odnosu prema projektnom zadatku i podseća da se i u racionalnom pristupu projektovanju, kroz kreativni pristup može proizvesti kvalitetna arhitektura, spektakularnog izgleda.
R: Pitanje je ko danas zna da čita vrednost arhitekture i ko nam servira kako da je čitamo. Skoro je bila priča o potencijalnoj prenameni, ili čak rušenju zgrade Fakulteta dramskih umetnosti  u Beogradu. Ništa novo ne radi naša vlast, niti investitori. To su modeli koji su korišćeni praktično u svim postkomunističkim zemljama, koje su mahom sve to prošle ranije. Na široj javnosti je da budu korak ispred vlasti i prepoznaju te trendove, a potom vrše uticaje da se takve stvari zaustave. Filozofski je, kao i FDU, građen spram standarda u kome se živelo i spram principa da se za obrazovanje i kulturu ne štedi. Ti objekti deluju neuništivo. Zanimljivo je koliko se kroz arhitekturu može pročitati ambicija investitora. Sad imamo raznorazne privatne obrazovne kutije kao repere savremenih vrednosti – barem za jedan deo društva koji se koristi tim vrednostima. Neki od privatnih univerziteta više liče na fabrike (diploma), a kvalitetom gradnje deluju kao da nije nužno da će dugo postojati.
Videti značajne objekte arhitekture Novog Sada u štampi velikog formata izuzetan je prizor s kojim su se posetioci izložbi susreli. Pored monografije i izložbi, da li postoji zamisao da dokumentaciona građa digitalizuje a projekat dobije svoju onlajn prezentacionu varijantu?
S: Kao što sam rekao na početku projekat Jugoslovenski modernizam u Vojvodini čija je izložba Fokus na modernizam jedan od ishoda, se paralelno razvija u više tokova. Samim tim veliki materijal koji je prikupljen i fenomenalne fotografije koje je Relja proizveo, biće u budućnosti prezentovane kroz različite formate, što stručnog tipa, tako i kroz nešto "opuštenije" formate kako bi sa njima prišli što široj publici. Dobar deo sakupljenog materijala je digitalizovan, a svakako da će u nekom momentu on biti dostupan i onlajn.
R: Voleo bih da stignemo dotle da ljudi žele arhitekturu sa ovih izložbi u svojim kućama. Neke od fotografija sa prethodne izložbe smo prodali i novac sam donirao u celosti DaNS-u. Nije dovoljno reći bravo, niti tapšati nekoga po ramenu, već je neophodno novčano podržati ljude koji vode bitke za struku, a to je DaNS. Nije realno da ćemo napraviti ekonomski samoodrživ sistem od rada na ovim izložbama, ali tu mogu u velikoj meri da pomognu mediji i dalja promocija vrednosti koju arhitektura kojom se bavimo u sebi nosi.
Iza vas su dve uspešne i zapažane izložbe. Koji je sledeći korak u realizaciji projekta Jugoslovenski modernizam u Vojvodini? Šta možemo očekivati kao sledeći rezultat vaše saradnje?
S: Planiramo da nastavimo, još smelije. Za početak u ovoj godini planiramo malo drugačiji format koji će se baviti temom Spensa. Dakle, jedan sveobuhvatniji pristup kroz koji će Spens biti analiziran kroz arhivsku građu, fotografiju, ali i špekulativne scenarije razvoja. O svemu tome ćemo, nadam se, uskoro moći više govoriti. Pored toga, ideja nam je da se u narednim ciklusima bavimo stanovanjem, ali i da "izađemo" iz Novog Sada i posvetimo pažnju objektima koji se nalaze širom prostora Vojvodine. Sve u svemu, puno je planova koji će uz nastavak odlične međusobne saradnje i energije biti realizovan u narednom periodu.
Na ovom mestu bih se i zahvalio celom timu koji se bavi ovim projektom, a koji na potpuno dobrovoljnoj bazi i sa minimalnom finansijskom podrškom radi veoma značajan posao od kog će koristi u budućnosti imati šira stručna javnost ali i Grad Novi Sad.
Kad ste već ovde…