U zaštićenom gradskom jezgru Subotice nikao je objekat s veoma interesantnim pročeljem. Međutim, on nije bio deo originalnog projekta.
Izrada projekta fasade stambeno-poslovnog objekta u ulici Šandora Petefija 3 i 5 u Subotici bio je specifičan zadatak, kakav se retko viđa u ovdašnjoj arhitektonskoj praksi. Investitor, koji je obezbedio lokaciju, dobio građevinsku dozvolu i započeo izgradnju objekta nije bio zadovoljan rešenjem fasade i zato je, uz podršku gradskog zavoda za zaštitu spomenika raspisao međunarodni konkurs za arhitektonsko rešenje ulične fasade na predmetnoj lokaciji. Razlog za to je i pozicija objekta koji se nalazi u zaštićenom gradskom jezgru Subotice između dva objekta sa zaštićenim stilskim fasadama s kraja 19. veka – zgradama Gimnazije i Poliklinike.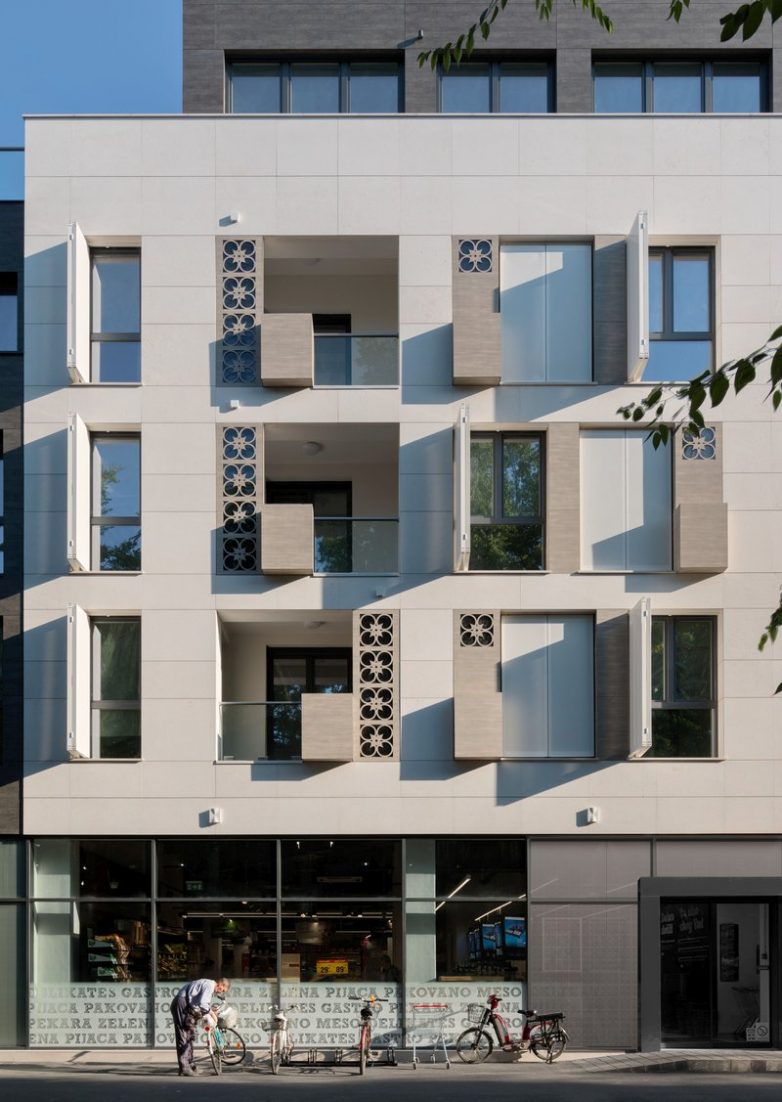 Ovo je zadatak kakav se retko viđa u ovdašnjoj arhitektonskoj praksi.
Na konkurs je pristiglo 93 rada iz 17 zemalja,  a prvu nagradu dobilo je rešenje arhitektonskog studija PLAT.FORM.A iz Beograda. Potom je u dogovoru s investitorom došlo je do manjih korekcija konkursnog rešenja kako bi se novo rešenje fasade prilagodilo situaciji na već aktivnom gradilištu.
Bitno je naglasiti da je rešenje fasade već bilo uslovljeno postojećim rasporedom otvora koji su se samo delimično mogli korigovati, uz činjenicu da su već skoro svi stanovi u zgradi bili prodati, a grubi radovi već izvedeni. I pored toga, odluka arhitekata bila je da, uprkos ograničenjima, akcenat bace na strukturu fasade koja je bila čvrst osnov za korišćenje sekundarnih fasadnih elemenata koji bi ovom fasadnom platnu istovremeno omogućili i ozbiljnost i dinamičnost.
Razbijanje fasade
Komponovanje ove fasadne celine dužine oko 55 i visine 14-18 metara predviđalo je raščlanjivanje na tri različita dela. Najveći deo središnjeg poteza uličnog fronta predviđen je u kamenu svetle nijanse. Čvrsta centralna struktura daje celom fasadnom platnu jasan okvir. Ovim se poštuje i učvršćuje jasna ulična regulaciju koja jeste odlika razvijenih urbanih celina.
Dispozicija otvora na kamenom delu fasade postavljena je u pravilne okvire kojima dinamičnost daje upravo njihova podela i materijalizacija. Strogu šemu otvora, koja je konstrukcijom već bila u velikoj meri definisana, razbija neujednačena podela fasadnih panela, žardinjera i pomerljivih zastora. Njihovim individualnim korišćenjem iz svakog pojedinačnog stana, ovaj deo fasade bi stalno bio drugačiji a opet kontrolisan inicijalnim i jasnim rasporedom i dimenzijama otvora. Fiksne žardinjere kako na prozorskim otvorima, tako i na delovima lođa, imaju zadatak unošenja još jedne dimenzije i oplemenjivanja čitavog prostora.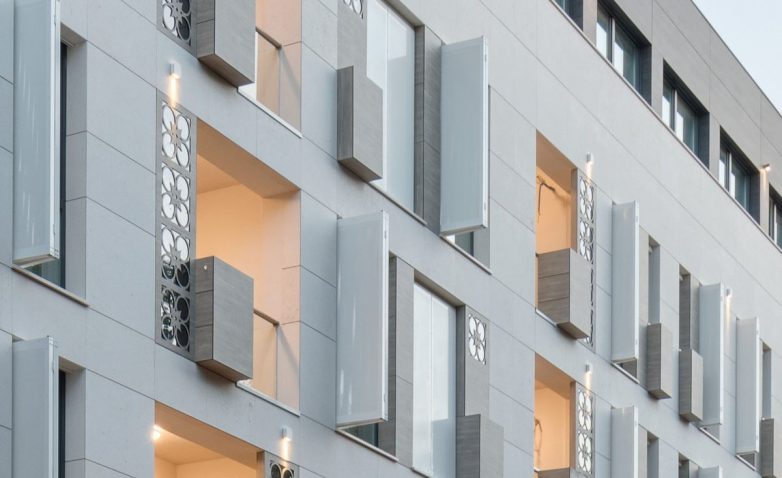 Strogu šemu otvora razbija neujednačena podela fasadnih panela, žardinjera i pomerljivih zastora.
Dekorativni cvet
Veza sa nasleđenim duhom lokacije jeste korišćenje elementa dekoracije sa objekta koji se nekada ovde nalazio. Radi se o elementu dekorativnog cveta koji je nekada u kamenoj obradi ukrašavao stari, prizemni objekat. Ovde je on primenjen u većim dimenzijama, u novim materijalima i svedenijoj geometriji, i uz blago osvetljenje naglašava određene tačke novog objekta.
Povučena etaža
Poslednja, najviša etaža je povučena koliko su to uslovi dozvoljavali. Sama fasada ovim povlačenjem postaje daleko elegantnija i otmenija jer dobija na slojevitosti. Ovim malim povlačenjem, objekat ne pretenduje da dominira nad fasadama svojih izuzetno važnih suseda, nego ih naprotiv prati na prijateljski, a opet autentičan način.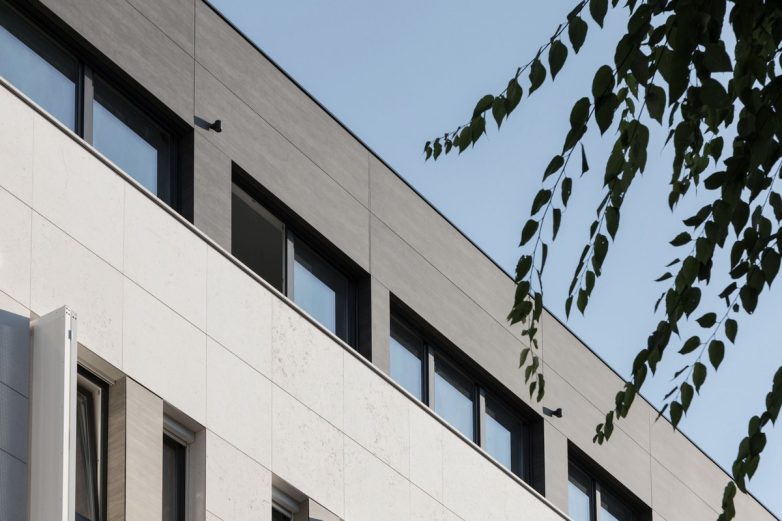 Minimalnim prilagođavanjima postoji mogućnost da se ceo jedan deo grada oplemeni i da se stvore vrednosti koje ostaju.
"Arhitektura u kontekstu i uopšte interpolacija u ovoj oblasti jeste zahtevna sa mnogih stanovišta. Opet, nekim minimalnim prilagođavanjima, postoji mogućnost da ceo jedan deo grada podržimo u razvoju.", kažu arhitekte iz biroa PLAT.FORM.A i dodaju da "težnja ka promišljanju o širem prostoru u skladu sa osnovnim postulatima arhitekture, a opet i u skladu sa vremenom u kome živimo kao i brojnim ograničenjima sa kojima se suočavamo ne samo na lokalnom nego i na mnogo širem nivou, utiče na to da deo grada može dodatno da se oplemeni, da iskoristi sve svoje prednosti i u najboljem slučaju stvori nove vrednosti koje ostaju."

Faktografija
projekat: FASADA STAMBENO-POSLOVNOG OBJEKTA
mesto: ulica Šandora Petefija 3 i 5, Subotica
godina: 2017.
projekat: PLAT.FORM.A arhitektonski studio, Beograd
arhitekte: Bojana Kovač Đurasinović dipl.inž.arh, Miloš Đurasinović dipl.inž.arh.
fotografije: Relja Ivanić
Kad ste već ovde…