Ko je sve kroz istoriju projektovao na potezu od Varoš-kapije do Savamale i kako će to sve zajedno na kraju izgledati.
Sudeći po obećanjima gradskih čelnika, puštanje u rad Karađorđeve ulice možemo očekivati već 1. septembra, a da bi radovi na preuređenju njenog okruženja mogli potrajati još koju nedelju. Za sada, samo 17 dana pred taj rok, vidimo da su izvođači i dalje na pozicijama izlivanja nove betonske osnove namenjene tramvajskim šinama, a da su radovi na izradi proširenog trotoara i dalje u jeku, pa nam taj rok nekako ne deluje uverljivo.
Kako smo navikli na probijanje rokova, ne bi ni ovo bilo prvi put, ali bar da se završi u nekim realnim vremenskim okvirima, jer su potrebe za ovom saobraćajnicom izuzetno velike.
Dok iščekujemo kraj građevinskih radova, napravimo manji osvrt na neke zanimljive istorijske trenutke, ali i aktuelna dešavanja unutar ovog savamalskog poteza.
Đumrukana bi mogla da bude u potpunosti rekonstruisana, kada bi joj se vratila namena kulturno-umetničkog sadržaja.
Karađorđeva ulica postoji od izgradnje same Beogradske tvrđave, naravno pod drugim imenom. Naročito postaje aktuelna u 18. i 19. veku, tačnije od smeštanja srpskog življa na prostor Savamale i Varoš-kapije, ali i sve aktivnijeg razvoja savskog pristaništa. Dominantno mestu među zgradama, smeštenim tik ispod Saborne crkve, zauzimala je carinarnica ili kako su je tada, po turskom zvali – đumrukana. Izgrađena je oko 1835. godine po nacrtima inženjera Nikole Živkovića u duhu zapadnjačke arhitekture, jednostavne, simetrične forme, dvoetažna s tremom, s elementima klasicizma i romantizma.
Ova, ali i mnoge druge građevine i prostorno-urbanistički radovi bivaju pokrenuti od strane kneza Miloša Obrenovića, koji se u to vreme trudi da srpsku varoš uredi po uzoru na zapadne gradove. U tu svrhu zapošljava inženjera Franca Jankea, koji 1841-1842. godine izrađuje regulacioni plan za potez od crkve Svetog Marka do Savamale. Iste godine, usled nedostataka pozorišne zgrade, Đumrukana biva pretvorena u Teatar na đumruku, kako je zvanično glasio naziv ove ustanove, osnovane od strane Atanasija Nikolića i Jovana Sterija Popovića. Svrgavanjem oca i sina Obrenovića, pozorište biva zatvoreno, a zgrada dobija drugu namenu sve do Drugog svetskog rata, kada biva oštećena u bombardovanju, a zatim i potpuno srušena.
Prema najavama političara, Đumrukana bi mogla da bude u potpunosti rekonstruisana, kada bi joj se vratila slična namena kulturno-umetničkog sadržaja.
Da se knez nije okliznuo…
Varoš-kapiju i savamalsko pristanište povezuje Veliko stepenište (sadašnja ulica Velike stepenice), izgrađeno 1860. godine po naredbi kneza Mihaila Obrenovića. Naime, kada se knez Mihailo jedan dan spuštao prema pristaništu, nije želeo da ide ulicom, već prečim putem koji je činila jedna strma, blatnjava staza. Žureći svojim obavezama, knez se okliznuo i pao niz stazu, pa je besan ustajući naredio da se nakon njegovog povratka započnu radovi na izgradnji pristojnog stepeništa. Ne znamo da li je ova priča istinita, tek Varoš-kapija i tada Savska ulica, bivaju povezane stepeništem koje i danas postoji.
Nakon dolaska na presto kralja Petra Karađorđevića, u čast njegovog slavnog dede, koji je tim putem poveo proboj u Beogradsku tvrđavu, ulica 1904. godine dobija ime Karađorđeva. Tih dvadesetak godina, sve do međuratnog perioda, zbog blizine pristaništa i železničke stanice, ulica postaje trgovačko-bankarski centar Beograda, o čemu svedoči i zgrada Beogradske zadruge, prve privatne banke, izgrađene 1907. godine po projektu arhitekata Andre Stevanovića i Nikole Nestorovića. U to vreme, više beogradskih trgovaca, poput braće Krsmanovića, porodice Vučo i Luke Ćelovića Trebinjca, izgradili su više stambeno-poslovnih zgrada na potezu železnička stanica-pristanište, a na istom mestu nicali su hoteli, kafane, pa čak i jedna javna kuća u Crnogorskoj ulici. Pristanište nije bilo poznato samo po robi i trgovačkim poslovima, već i po mornarima, kojima je bila potrebna zabava, pa otuda i ovaj sadržaj…
Projekat je predviđao potpuno "čišćenje" tog dela Karađorđeve ulice, pretvarajući celu padinu u parkovsku celinu s akcentom na prošireno Veliko stepenište.
Nakon Drugog svetskog rata, prostor Varoš-kapije i Savamale pomalo zapada u zaborav jer se akcenat novih vlasti seli na Novi Beograd. Godine 1956. održan je jedan konkurs za potrebe rekonstrukcije ovog prostora, ali bez ikakve realizacije jer ili ni jedan od nagrađenih radova nije u potpunosti zadovoljavao uslove konkursa ili gradskoj vlasti nije bilo u prioritetu da se taj deo grada obnavlja.
S tog konkursa bismo izdvojili jedan visoko nagrađeni projekat, ali pre svega zbog radikalnog pristupa u tretiranju urbanog tkiva, čisto da vidimo u kom smeru su sve arhitekte razmišljale tih godina. U pitanju je projekat tima koji su činile arhitekte Zoran Petrović, Milan Pališaški i Slobodan Janjić, a koji je predviđao potpuno "čišćenje" tog dela Karađorđeve ulice, pretvarajući celu padinu u parkovsku celinu s akcentom na prošireno Veliko stepenište. Iz makete se može primetiti da osim Saborne crkve i zgrade Patrijaršije, ceo prostor Kosančićevog venca od Kalemegdana do Brankovog mosta ima potpuno novi sadržaj. Srećom, radikalna korbizjeovska moda sravnjavanja starog jezgra za potrebe izgradnje nove arhitekture nigde nije uhvatila većeg maha, pa ni u Beogradu.
Centar Pompidu kao inspiracija
Decenijama posle toga ceo prostor nije u značajnijom meri razmatran za potrebe rekonstrukcije, a sadržaj Karađorđeve ulice dobija striktno trgovinski sadržaj. Farbare, limarske radnje i naravno prodavnice alata i automobilskih rezervnih delova i poneka kafana, bili su jedini sadržaj koji je doživeo početak 2000-ih godina. U tom trenutku nastaje i jedan samoinicijativni projekat arhitektice Tatjane Mrđenović, koja već tada uviđa da je celom prostoru neophodna hitna rekonstrukcija i pre svega dodatno povezivanje i spuštanje grada na reku.
Projekat je bio pod uticajem Dobrovićeve Terazijske terase, ali mnogo više Kulturnim centrom Žorža Pompidua, koji nastaje koju deceniju ranije od strane arhitekte Renca Pjana. Glavni sadržaj kompleksa bio je kulturno-umetnički (naravno i drugi vidovi komercijalnog sadržaja), a pored terase-vidikovca, kompleks je podrazumevao i stepenište kojim se Varoš-kapija povezivala sa Karađorđevom ulicom i pristaništem.
Možda će neko reći da je ovo takođe isuviše radikalno, ali ovaj projekat nije insistirao na rušenju postojećeg urbanog tkiva, a estetika njegove arhitekture ugleda se na Centar Pompidu, koji je i dalje jedno od najznamenitijih mesta grada Pariza, iako njegova arhitektura odskače od okolne istorističke.

Još ako bi gradski čelnici konačno odustali od žičare i inicirali gradnju pešačkog mosta preko Save, efekat bi bio potpun.
Prvi veliki javni internacionalni konkurs, koji je za temu imao nešto slično što je arhitektica Mrđenović predložila, usledio je 2011. godine za potrebe povezivanja Beogradske tvrđave i Beton hale, kada prvo mesto osvajaju arhitekte Branislav Redžić (ARCVS) i Sou Fudžimoto. Nažalost, pokazalo se da ovakvi i slični projekti nemaju finansijsku opravdanost i da za sada neće biti građeni u Beogradu.
Sadašnje intervencije na prostoru savske padine daleko su umerenije prirode, iako neki kritičari i njima pripisuju izvesnu radikalnost. Gradska galerija, prvonagrađeni projekat sa javnog konkursa, zidaće se po projektu tima ARCVS na čelu sa arhitektom Branislavom Redžićem, a koja je nenametljivo ukopana u kosinu padine, ostavljajući prostora za prekopotrebnu terasu sa vidikovcem.
Pre neki dan je postavljen skulptoralni motiv na pasarelu, koja će uskoro biti dovršena, po projektima umetnika Mrđana Bajića i Ričarda Dikona, čime će Beograd dobiti pešački silazak na reku, spajajući time dve najprometnije lokacije tog dela grada – Beogradsku tvrđavu i Beton halu. Još ako bi gradski čelnici konačno odustali od žičare i inicirali gradnju pešačkog mosta preko Save, koji bi spajao Beton halu i Muzej savremene umetnosti, efekat bi bio potpun.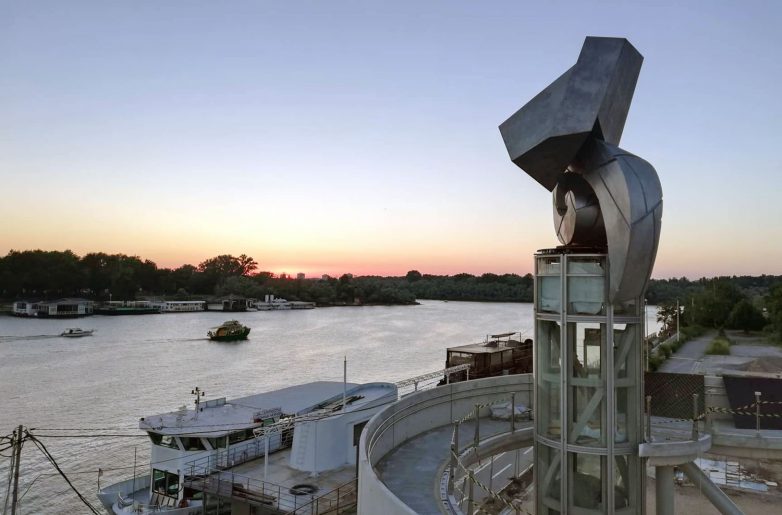 Umerena arhitektura
Naravno, sada placevi u tom delu ulice počinju sve više da vrede, pa možemo očekivati konačni epilog nekih upražnjenih parcela, dotrajalih kućica, ali i čitavih zgrada, koje će sigurno biti transformisane u neku stambeno-poslovnu zgradu ili hotel. Baš kao jedan pod nazivom Porto, čiji temelji su nikli u poslednjih par meseci, a koji će se nalaziti na broju 35. Autor ovog rešenja je arhitekta Ivana Stanković, koja je hotelu dala jednu svedenu, neo-ar-deko elegantnu arhitekturu.
Bilo bi dobro da, ako već ceo kraj sledi jedan koncept umerene arhitekture, to bude slučaj i s drugim zgradama koje će, nezavisno od broja na kojem budu izgrađene ili od gabarita, početi da se pojavljuju duž Karađorđeve ulice.
Preklapanje
Tu se još jednom možemo vratiti na Velike stepenice, koje će projektom rekonstrukcije dobiti novi, uređeni pešački prilaz iz Karađorđeve ulice i logičan nastavak preko travnate padine i nekadašnjih železničkih šina, čime će prostor Beton hale na taj način konačno biti povezan sa pešačkom zonom centra grada.
Što se tiče radova na Karađorđevoj ulici, od kojih zavisi dalji razvoj cele lokacije, deluje da se dobro izvode. Doduše, postoje zamerke na ponovno preklapanje šinskog i drumskog saobraćaja, ali to su očigledno bile neminovnosti prilikom projektovanja, koje potpisuje Saobraćajni institut CIP. Zamerke na stajališta za turističke autobuse su na mestu i gradska uprava već uveliko radi na rešavanju problema, jer se ponekad i desetak vozila parkira na pristaništu, kako bi pokupili inostrane posetioce.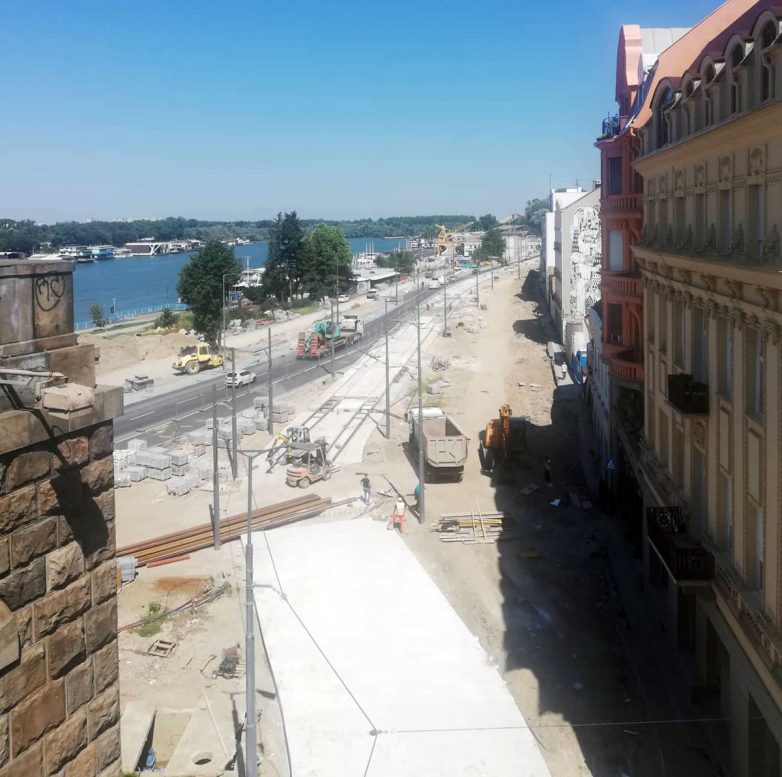 Kao što možemo videti, istorija Varoš-kapije i Savamale može se opisati kao viševekovni razvoj i transformacija jednog od najznačajnijih delova centralne zone, sa konstantno odlaganim projektom značajnijeg povezivanja gornjeg i donjeg dela varoši. Možda je ovo konačni trenutak njenog dugo isčekivanog uređenja, umrežavanja i prostorno-socijalnog prožimanja.
Kad ste već tu…