Kada su se pojavili prvi neboderi u Beogradu, kako su ih tada dočekivali sugrađani i koji novi vertikalni reperi očekuju prestonicu do 2020. godine.
Kada je 1940. godine, po projektima arhitekata Branka Bona i Miladina Prljevića, izgrađena upravna zgrada Hipotekarne banke trgovačkog fonda, popularno nazvana Palata Albanija, već uveliko arhitektonsko-urbanistički reper Terazija, javnost je takođe bila podeljena. Najpre zbog rušenja stare zgrade kafane Albanija, gde su se okupljali beogradski boemi, a zatim i zbog gabarita novoizgrađenog objekta. Međutim, izgradnjom Albanije, poslovno-bankarska elita je vizionarski trasirala razvojni put Beograda. Ono što je nekada bila malo veća varoš, najvišom zgradom na Balkanu polako je počinjalo da liči na regionalnu metropolu.
Nakon Rata, 1974. godine Beograd dobija novi arhitektonsko-urbanistički reper. Po projektima arhitekte Branka Pešića izgrađena je Palata Beograd, popularno nazvana Beograđanka. I pored negodovanja jednog dela javnosti, najviše zbog boje same zgrade, Beograđanka ubrzo postaje novi simbol grada, naročito zbog otvaranja popularnog radija, a kasnije i televizije Studio B u prostorijama zgrade.
Skoro 40 godina prošlo je od izgradnje visokih zgrada, a nad Beogradom polako počinju da se uzdižu neke nove kule.
S druge strane Save, na prostoru Novog Beograda, takođe su nikle dve višespratnice. Najpre 1965. godine zgrada Društveno-političkih organizacija (popularni CK), arhitekte Mihajla Jankovića, a zatim i kule Geneks, popularno nazvane Zapadna kapija Beograda, arhitekte Mihajla Mitrovića. Prva višespratnica, jednostavni kubus armirano-betonskog jezgra, optočen čeličnom konstrukcijom koja nosi staklenu zid-zavesu, bila je sedište Centralnog komiteta i simbol moći Komunističke partije Jugoslavije. Drugi kompleks, brutalistički biser iz 1980. godine, koji je svoje mesto pronašao u nekoliko svetskih enciklopedija arhitekture, bio je simbol snažne državne izvozno-uvozne kompanije. Vremena su se promenila. Skoro 40 godina prošlo je od izgradnje poslednje od navedenih zgrada, a nad Beogradom polako počinju da se uzdižu neke nove višespratne kule. Naravno, one su simbol već odomaćenog kapitalizma i pre svega inostranih investicija.
Nova najviša kula
Među prvima započinje da se zida Kula Beograd, stakleni neboder kontroverznog Beograda na vodi. Iako je iskopavanje tla i postavljanje šipova odavno otpočelo, izgradnja same kule još uvek nije započela. Da li su u pitanju problemi fundiranja, podzemnih voda ili neki drugi razlog plansko-prostorne prirode, još uvek nemamo pravih informacija.
Skyline u srcu grada
Polovinom prethodne 2018. godine započela je izgradnja jedne od kula kompleksa Skyline, izraelskog investitora AFI Europe. Deo javnosti se odmah pobunio zbog gabarita ovih kula, koji nesrazmerno dominiraju nad okolnom urbanom matricom, naglašavajući da je ovo uvertira za jedan novi urbanizam koji će potpuno izmeniti taj deo grada.
Međutim, Skyline baš kao i njegove prethodnice Albanija i Beograđanka, ima karakteristične kule koje dominiraju vizurom Beograda, ali kao i prethodnice poseduje vezivne korpuse, to jest, segmente kompleksa koji se direktno naslanjaju na okolnu arhitekturu i koji prate spratovnost zgrada u okruženju. Kompleks zauzima lokaciju na samom rubu urbanističke matrice, što je i dozvolilo autoru zgrada, izraelskom arhitekti Ami Muru, da slobodno akcentuje ovu poziciju. On je to uradio pre svega spratovnošću, dok je sama arhitektura svojim volumenom i detaljima jednostavna, dopadljiva široj javnosti i nenametljiva za  istorijsko okruženje.
Drugo Ušće
Naredna kula, čija izgradnja je takođe započela u protekloj 2018. godini je poslovna zgrada Ušće 2. Iako je na konkursu, koji je 2003. godine u saradnji sa Društvom arhitekata Beograda, pokrenula firma MPC Properties, prvo mesto osvojilo rešnje projektnog biroa ARCVS na čelu sa arhitektom Branislavom Redžićem, razrada celokupnog projekta nije u potpunosti poverena ovom timu. Po projektu tima ARCVS 2005. godine biva rekonstruisana kula Ušće, ali zato razradu projekta šoping centra dobija internacionalni projektni biro Chapman Taylor. Nezvanično, ista kompanija pod pritiskom novog investitora, dobija na razradu i kulu Ušće 2. Kao polaznu tačku koriste idejno rešenje biroa ARCVS, ali prave izvesne korekcije na staklenoj fasadi, gde dodaju ramovske elemente na osnovu kojih autorizuju svoje rešenje. Kula Ušće 2 je zamišljena isključivo s poslovnom namenom, a mnogi su već počeli da ovaj kompleks porede s nekadašnjim Svetskim trgovinskim centrom u Njujorku.
Zapadna kula
Još jedna kula na Novom Beogradu, čija izgradnja je započela u protekloj godini je West Tower u kompleksu West 65. Iako je ceo kompleks u nekom trenutku zamišljen s mešovitim sadržajem – stambeno-poslovne zgrade (do 7 spratova), šoping mol i poslovna kula, ova ideja je ubrzo korigovana. Kako se neposredno uz West 65 nalazi kompleks Airport City, sastavljen isključivo od zgrada poslovne namene, investitori su odlučili da West Tower dobije rezidencijalnu namenu i postane najelitniji stambeni segment celog kompleksa. Po svojoj građevinskoj strukturi se mnogo ne razlikuje od kula Ušće 1 i 2, ali njena arhitektura poseduje izvesnu ekspresivnost, koja je postignuta formom udvojenih korpusa razičite veličine.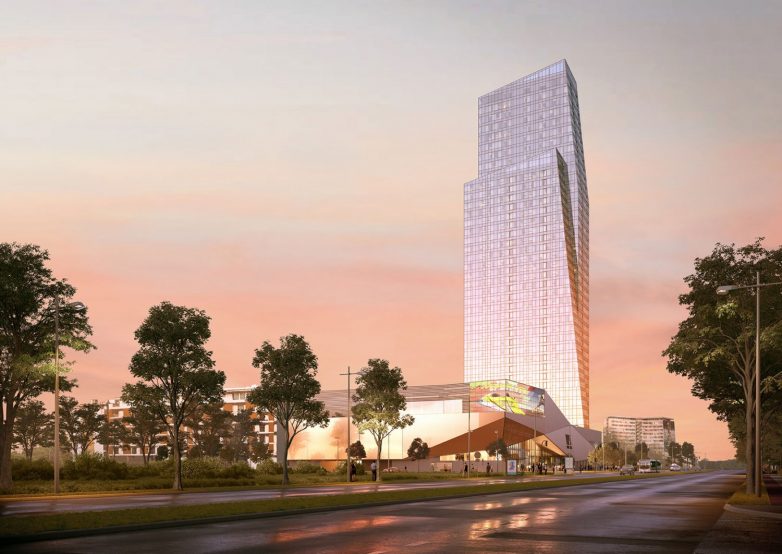 Radikalno ili vizionarski?
Od prvog nebodera iz 1940. godine, do novih kula, čija dovršavanja možemo očekivati već naredne godine, protiče 80 godina. Beograd se od tada konstantno menjao, a njegove poslednje transformacije izazivaju različite reakcije, kako struke tako i šire javnosti. Iako neki stručnjaci i mnogi laici, odavno Beograd upoređuju s Bečom ili Parizom, mnogo je ispravnije porediti ga s Londonom, Hamburgom ili Roterdamom, koji nisu kulturno-istorijske prestonice već privredna, ekonomska, transportna i komunikacijska čvorišta Evrope. Svaki od ovih gradova ima razvijen drumski i rečni/pomorski saobraćaj, kao i prostrani poslovni kvart, a njihove višespratne poslovnice govore u prilog konceptu vertikalnosti kao glavne karakteristike globalnih metropola.
Da li su ove arhitektonsko-urbanističke transformacije isuviše radikalne ili jedan dobar deo stanovnika Beograda ne može da se pomiri sa novom ulogom grada, ostaje nam da vidimo.
Kad ste već ovde…